Tobacco Roller's Chair
Chair, Tobacco Roller's. Circa 1890–1950. Wood, mahogany, oak (front stretcher); leather seat and back; metal upholstery nails (replacements of earlier nails) [Vernacular style] Acc. No. 80.44.00.01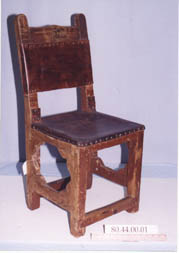 Description: Square-cut front and back legs. Single stretcher on each side, front, and back. Each is mortised through legs and wedged. Seat rail apparently nailed to legs. Leather seat. Stiles have rounded tops. Crest rail has a simple decorative profile, and residue of paint indicates it was once a different color. All joinery is hand-done. Inscription under seat reads "Cuesta Rey." 
Discussion: This is an example of a home-made occupational chair. The cigar industry in Tampa and Ybor City, where this chair is thought to originate, arrived with Cuban entrepreneurs in 1886 and the years after. Fleeing the Cuban revolution of the 1860s, many of the cigar manufacturers settled in Key West. When labor problems arose there, they moved to Tampa. Here, for much of the late 19th and early 20th centuries, hand-rolled cigars enjoyed a golden age of prosperity. Though today the industry is much smaller, one still can find small factories where craftsmen and women hand-roll premium cigars while seated in chairs much like this one, and using tools much like, if not the same, as those used a century ago. Not currently on exhibit.
Bibliography
Campbell, A. Stuart.

 

The Cigar Industry of Tampa, Florida.

 

Gainesville: University Presses of

Florida, 1939.

Davidson, Joe.

 

The Art of the Cigar Label.

 

Seacaucus, N.J.: Wellfleet Press, 1989.

Leon, Joseph M.

 

The Cigar Industry and Cigar Leaf Tobacco in Florida During the

Nineteenth Century.

 

M.A. thesis, Florida State University, 1962.

Westfall, L. Glenn. "Florida's Cultural Legacy: Tobacco, Steam & Stone." South Florida History

Magazine.

 

Vol. 23, No. 4, Fall 1995/Winter 1996. pp. 13–23.