Roll Top Desk
Desk, Roll Top. Circa 1860–80. Wood, walnut; metal, brass hardware. Manufacturer unknown. [Renaissance Revival style] Acc. No. 80.170.00.01
Description: Double pedestal "C" scroll roll top desk. Frame and panel construction on all exterior surfaces with contrasting color burl veneer on all raised areas of panels and on all drawer fronts. Four drawers in each pedestal, each with a single central pull of carved wood. Kneehole center has decorative molding but no drawer. Decorative molding along the top of each pedestal. Tambour top with two metal pulls. Upper section of desk has a row of pigeon holes and document spaces and another row of drawers and pigeon holes below the first.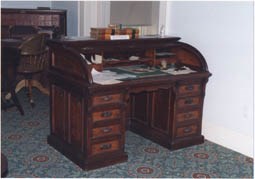 Discussion: The family story is that the J. P. Morgan Bank in New York gave this desk to Captain John J. Inglis because he had admired it on a trip to New York City, and because they appreciated his large deposits. There is no way to document such a story, but the desk certainly dates from the period of Captain Inglis's success in business, which came at a time of great hardship for many Floridians, the Reconstruction period. Currently on exhibit in the Governor's Suite in the Old Capitol.
Bibliography
Grier, Katherine C. Culture & Comfort: People, Parlors, and Upholstery, 1850–1930.

Rochester, N.Y.: Strong Museum, 1988.

Pierce, Donald C. "Mitchell and Rammelsberg: Cincinnati Furniture Manufacturers, 1847–81."

Winterthur Portfolio.

 

13 (1979) pp. 209–29.

State Library of Florida. "Inglis, Captain John J."

 

Biography File, Dorothy Dodd Florida

Collection.