Volunteers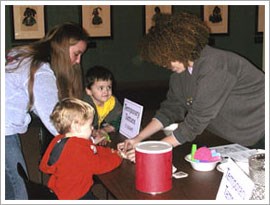 Volunteer at the Museum of Florida History
The Museum of Florida History welcomes qualified individuals to join our team! Volunteers play an integral role in engaging the public with our museum and sharing Florida's history. Whether you'd like to set up a regular schedule or just help out at special events there are opportunities to fit your needs. Most volunteer opportunities are with our education team: staffing the information desk, assisting during special programs or events, and even giving guided tours. Volunteering at the museum will allow you to learn more about Florida history, your local community, and museum operations.
Volunteer Requirements:
Volunteers must complete all required paperwork, attend a volunteer training, complete the self-guided orientation, and interview with museum staff.
All volunteers are subject to a background check.

The Museum of Florida History cannot provide a volunteer opportunity for persons needing to volunteer because they have broken a law and they are required to provide volunteer community service.
The Museum cannot provide a volunteer opportunity for those who have ever been convicted of, plead nolo contendere (no contest), or had adjudication of guilt withheld to any crime which is a felony or first-degree misdemeanor

Commit to a completing seventy-four hours over a year long period.
All volunteers must adhere to a dress code and maintain a high level of professionalism and courtesy when interacting with guests.
For more information, contact the Volunteer Coordinator at [email protected] or 850-245-6486.