Library Table
Library Table. Circa 1906-20. Wood, oak and unidentified veneer and marquetry. [Arts & Crafts/Mission style] Acc. No. 82.40.00.093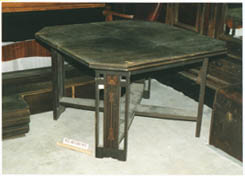 Description: Four flat board-shaped legs set at 45 degrees to the table top's edges and joined by an "X" stretcher. Legs have a complex design of solids and voids in marquetry using abstract geometric designs. Table top is octagonal and has a skirting around the four long sides. Most surfaces are veneered. This piece appears in the 1906 Shop of the Crafters catalogue, page 10, #355. Paper label glued to underside of table top reads: "Shop of the Crafters at Cincinnati / Oscar Onken Co. sole Owners" with the image of a candle lantern in the center.
Discussion: Florida Governor George Drew's son, Frank Drew, was an entrepreneur and railroad developer in the early 20th century. This table, a very fashionable piece, probably furnished his home library in Lake City. All the other pieces in the library matched this one in style and probably were bought as a suite. The Shop of the Crafters, although not nearly as well known today as Gustav Stickley and some other manufacturers of Mission style furniture, was well known at the turn of the century and may deserve more recognition for its original designs than the company has so far received.
Bibliography
Bowman, Leslie G. American Arts & Crafts: Virtue in Design, A Catalogue of the Palevsky

Collection and Related Works at the Los Angeles County Museum of Art.

 

Los Angeles: Los Angeles County Museum of Art, 1990. Contains information about the Shop of the Crafters, among other high-style furniture manufacturers.

Gray, Stephen, and Kenneth R. Trapp (eds.)

 

Arts & Crafts Furniture: Shop of the Crafters at

Cincinnati.

 

New York: Turn of the Century Editions, 1983. A reprint of the catalogue from which this piece was ordered.

Kaplan, Wendy. "The Art That Is Life:" The Arts & Crafts Movement in America,

1875-1920.

 

Boston: Museum of Fine Arts, 1987.