Library Table
Table, Library. Circa 1875–85. Wood, walnut, walnut veneer, poplar secondary wood [Renaissance Revival style] Acc. No. 82.40.00.078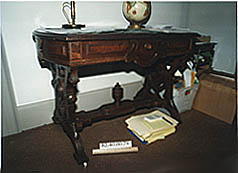 Description: Casters on all four feet. Elaborately carved legs and stretcher with decorative central urn. Single drawer with veneered, paneled, carved, and incised decorations. Center of drawer front extends down to act as drawer pull. Hand-cut dovetails and hand-cut/raised drawer bottom. Bowed sides, flat top with recently replaced green felt center sections.
Discussion: An elaborate example of high-style Renaissance Revival, this library table appears in the 1879 furniture catalogue of the M. & H. Schrenkeisen Company of New York City (p. 21, #10 "Large Library Table"). The fact that Governor Drew's best and most showy furniture was purchased from a catalogue rather than custom-designed and built by a fashionable master, indicates that even the most wealthy and powerful Floridians of the late 19th century were relatively modest in their lifestyle. This and other artifacts from Governor Drew's household passed down through his descendants, who donated a number of items in 1982. Not currently on exhibit.
Bibliography
Brandimarte, Cynthia A. Inside Texas: Culture, Identity, and Houses, 1878–1920.

 

Fort Worth:

Texas Christian University, 1991.

McKinstry, E. Richard.

 

Trade Catalogues at Winterthur: A Guide to the Literature of

Merchandising, 1750–1980.

 

New York: Garland Publishing, 1984. (See p. 168, #977: Schrenkeisen / Illustrated catalogue of parlor furniture, center and library tables, 1879 and associated microfiche cards)

Winkler, Gail, and Roger W. Moss. Victorian Interior Decoration; American Interiors,

1830–1900.

 

New York: Henry Holt and Company, 1986.