Jennings Desk
Desk of Florida Governor William S. Jennings. 1902. Wood, mahogany; cherry and birch secondary woods; metal, cast iron and nickel hardware [Vernacular with elements of Arts & Crafts/Mission style and Art Nouveau style] Acc. No. 91M.72.1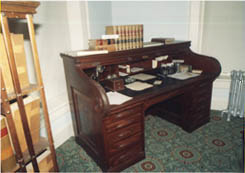 Description: "C" scroll type roll-top desk, twin pedestals, tambour top closure. Sides and back of desk have in-set panels with projecting molding around each panel and veneer panels inside frame. Front of desk has five drawers in each pedestal and a single central drawer. Pulls are wood with decorative Art Nouveau stylized vegetal motifs carved around their top and sides. Drawers are side-hung, and have machine-cut dovetails. Outside "C" scrolls have elaborate decorative concentric vegetal carving. Desk top has plain black imitation leather surface, probably added on top of original surface in 1979. Above writing surface is a low section of pigeon holes and book-sized slots. Brass lock on center drawer and center bottom of tambour. Large nickel-plated plaque was attached to the left inside of the desk in 1905 when the object was given to Florida Governor William S. Jennings.
Discussion: The desk was originally purchased by the legislature to furnish the newly expanded capitol in 1902. Governor William S. Jennings used the desk for most of his 1901 to 1904 term of office. Upon the inauguration of his successor, Napoleon B. Broward in January 1905, Jennings staff and friends acquired this desk (details are now missing on exactly what happened; a very similar desk, probably the same model, appears in later photographs of Governor Carey Hardee in the 1920s), placed the plaque, and gave him the desk. It passed down through the Jennings family until the governor's granddaughter generously loaned, then donated the desk to the Old Capitol, where it once again occupies its original place as the centerpiece of the restored Governor's Suite.
Bibliography
Clark, Robert J.

 

The Arts & Crafts Movement in America, 1876-1916.

 

Princeton, N.J.:

Princeton University Press, 1972.

Galbraith, Christine, and Barbara Miller.

 

Historical Documentary Research Project: 1902

Florida Capitol Restoration, First, Second, and Third Reports.

 

Tallahassee: Historic Tallahassee Preservation Board, 1979.