File Cabinet
Cabinet, File. Circa 1890-1910. Wood, oak; ; metal hardware. [Arts & Crafts/Mission style] Acc. No. 91M.73.1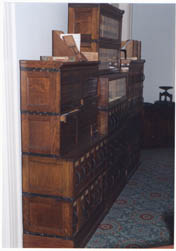 Description: Modular filing cases composed of four filing units, a top cap, and seven vertical pull-out drawers in each unit. Each unit and the top cap has a ½-inch wide metal band horizontally across it to strengthen the units when stacked. Several drawer fronts still have original filing labels attached, indicating they were used by state government. The base of this stack is a reproduction (1991) as are eight of the file drawer fronts. Medium dark finish to wood. Inscription on front of top cap reads: "Globe." 
Discussion: Difficult as it now is to imagine, state government used a lot less paper at the turn of the century than we do now. In fact, our entire culture, now overrun with photocopies, laserprints, and paper of all kinds, used relatively very little paper in 1900. These file cabinets would have been sufficient to keep the records of many offices at that time. The simplicity and plainness of the Mission style at the turn of the century appealed greatly to furniture makers who manufactured office supplies. They immediately adopted the style wholeheartedly and used those designs for most of the first fifty years of the century. This artifact is on exhibit in the Governor's Suite in the Old Capitol.
Bibliography
Cathers, David.

 

Furniture of the American Arts & Crafts Movement.

 

New York: New

American Library, 1981.

Marek, Don. Arts & Crafts Furniture Design: The Grand Rapids Contribution, 1895-1915.

Grand Rapids, Mich.: Grand Rapids Art Museum, 1987.

Trapp, Kenneth R.

 

The Arts & Crafts Movement in California: Living the Good Life.

 

New

York: Abbeville Press, 1993.