Field Cradle
Field Cradle. Circa 1876-86. Wood; metal wheels and hardware [Vernacular style] Acc. No. 74587.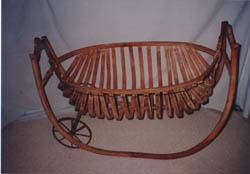 Description: Bentwood slats curve down to a flat bottom. Cradle has an oval configuration. It is hung on each end from a ring and hood attached to a bracket. Below the bracket are two curved, blue-painted runners in front and two iron spoked wheels on a single axle in back. Cradle portion was originally painted red. Stenciled on the inside slats of the cradle: "Ford Johnson & Co manufacturers / Michigan City Indiana / Patent Oct 17th 76."
Discussion: Designed as a convenience for agricultural workers to enable them to carry their infants around in the fields with them as they worked, this object was used by three generations of the donor's family in rural Alachua County, Florida. It was donated in August 1937 to the Florida State Museum and transferred to the Museum of Florida History in 1980. Currently on exhibit in the Collections Gallery of the Main Gallery.
Bibliography
Schwartz, Marvin D.

 

Furniture: Chairs, Tables, Sofas, and Beds (The Knopf Collectors' Guides to American Antiques)

 

New York: Alfred A. Knopf, 1982. (See esp. pp. 217, 219)