Legislative Desk
Desk. Legislative 1939. Wood, walnut, beech and plywood secondary wood; black plastic over particle board desktop [Art Moderne style] Acc. No. 86.75.1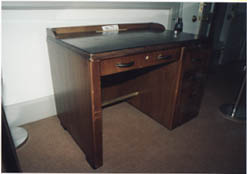 Description: Generally rectangular, with dark walnut veneered surfaces, curved at corners with handles in the form of shallow arcs. Four plain cylindrical feet. Right pedestal with four drawers, each having a single central pull. Pull-out extension above with single metal mushroom shaped pull. Center drawer with two handles. Flat black desktop with a gallery at back with a perpendicular return ending one-quarter of the way back, in a shallow arc.
Discussion: By the late 1930s, the turn-of-the-century mission oak furniture in the state capitol building appeared rather old-fashioned to the members of the legislature. The House of Representatives purchased new legislative desks for themselves in 1939, in the modern streamlined style of the day. The desks were used until 1963 when the chamber furnishings again were updated. It has long been the custom in the legislature for members to be assigned to new seating arrangements at every session of the legislature; thus no one legislator can become attached to any particular desk and claim it as his or her own. This desk was donated by a former state legislator in 1986. Currently on exhibit in the Comptroller's Office in the Old Capitol.
Bibliography
Bates, Elizabeth B., and Jonathan L. Fairbanks. American Furniture, 1620 to the Present. New York: R. Marek, 1981.
Eames, Charles. Furniture From the Design Collection of the Museum of Modern Art. New York: MOMA, 1973.
Greenberg, Cara. Midcentury Modern: Furniture of the 1950s. New York: Harmony Books, 1984.
Habegger, Jeryll. Sourcebook of Modern Furniture. New York: Van Nostrand Reinhold, 1989.
Meadmore, Clement. The Modern Chair: Classics in Production. New York: Van Nostrand Reinhold, 1975.