Ladderback chair
Ladderback chair. Circa 1840-1880. Wood, hickory; animal hide seat. [Vernacular style] Acc. No. 46781.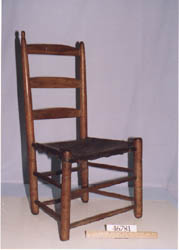 Description: Truncated conical feet, now worn away on proper right side (both front and back). Front and back legs have one groove about one-third of the way up and another about two-thirds of the way up. Two plain stretchers on each of the four sides. Animal hide seat (probably cowhide) with rawhide strips fastening it below seat rails. Stiles taper upward to acorn-like finial (proper left finial now missing). Three shaped and bowed slats.
Discussion: This type of vernacular chair was made by American settlers throughout the Appalachian Mountains. As immigrants gradually moved south and west, they carried the type as far as Texas. Hickory or other locally available hardwood was the main material. For southern chairs, cow hide seats most often were used, though twisted and woven corn husks also were common. There seem not to be regional variations so much as individual variations in proportion, style of decorating the uprights, and number of slats. This chair has a history of use in the Merritt Island area of Florida by the Andrew Jackson family, once slaves in the area, and after freedom, farmers and educators. This piece was purchased by the Florida State Museum in February 1930 from the Jackson family. It was transferred to the Museum of Florida History in 1980. Not currently on exhibit.
Bibliography
Atlanta Historical Society. Neat Pieces: The Plain Style Furniture of Nineteenth Century

Georgia.

 

Atlanta: Atlanta Historical Society, 1983.

Kovel, Ralph M.

 

American Country Furniture, 1780–1875.

 

New York: Crown Publishers,

1965.

Taylor, Lonn.

 

Texas Furniture: The Cabinetmakers and Their Work, 1840–1880.

 

Austin:

University of Texas Press, 1975.