Fall-front Desk
Fall-front Desk. Circa 1750–60. Wood, mahogany, cypress secondary; metal, brass, and iron hardware [Chippendale style] Acc. No. 78.239.00.01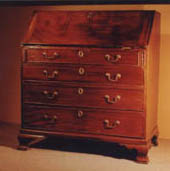 Description: Ogee-bracket front feet and block rear feet may all be replacements. There are four drawers below the desktop, each slightly larger in height than the one above it with the largest drawer at the bottom. Drawers constructed with muntins from front to rear along the bottom of each one. Drawer fronts are of mahogany and have cock-bead molding. Desk top has a central (prospect) door with small drawers and pigeon holes. There is a secret compartment below the removable floor behind the prospect door. Fall-front is attached with modern brass hinges. Sides, top, and fall-front are each made of a single piece of mahogany. Back and all other secondary woods are cypress. The finish on the entire piece has been stripped, and refinished.
Discussion: The construction techniques and woods used to make this piece are classic examples of cabinet making in the British style from the Charleston, South Carolina, area in the 1750s, according to John Bivins of the Museum of Early Southern Decorative Arts. He suggested that the desk originally may have been part of a combination desk and bookcase. Later owners of the piece have written that the desk came from the estate of Dr. Andrew Turnbull in St. Augustine. Turnbull is noted in Florida history as the founder of a colony of immigrants from the Mediterranean island of Majorca, the New Smyrna colony, which ultimately was unsuccessful. The later history of the piece is complex and includes many owners. It was donated to the Museum of Florida History in 1978. The desk is currently on exhibit in the Main Gallery.
Bibliography
Bivins, John, and Forsyth Alexander. The Regional Arts of the Early South.

 

Winston-Salem,

N.C.: Museum of Early Southern Decorative Arts, 1991. (See esp. p. 84, #20, and illustration on p. 69)

Burton, E. Milby.

 

Charleston Furniture, 1700–1825.

 

Charleston: Charleston Museum, 1955.

Kirk, John T.

 

American Furniture and the British Tradition to 1830.

 

New York: Knopf, 1982.

Poesch, Jessie J.

 

The Art of the Old South: Painting, Sculpture, Architecture, and the

Products of Craftsmen.

 

New York: Harrison House, 1989.