Programs & Events
The Museum offers a number of recurring programs throughout the year
Monthly Programs
 

2nd Saturday Family Programs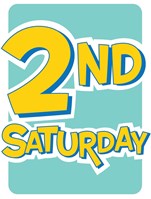 Join us on the 2nd Saturday of each month for a specially themed program featuring a hands-on activity for young historians. While the Museum is closed, we will be taking 2nd Saturday on the road, with programming in various locations held in conjunction with our community partners. Follow us on social media for the latest location, subjects, and more.
Upcoming Programs:
March 11, 2023, 11:00 a.m.–Noon at Lake Jackson Branch Library, 3840-300 N. Monroe Street, Tallahassee
The Copper Pieces of Lake Jackson
Archaeologists have uncovered copper items at several prehistoric sites in Florida including the Lake Jackson site. Copper is not found naturally in Florida, and had to come from hundreds of miles away! Come learn of this material's significance and how it made it all the way to Florida. Kids will create their own decorative pieces to take home.
April 8, 2023, 11:00 a.m.–Noon at Eastside Branch Library, 1583 Pedrick Road, Tallahassee
Poetry in the Land Of Flowers
For National Poetry Month, explore how Florida's beautiful oceans, animals, and bright sunshine have inspired many poems. Poems are an exceptional way to paint a picture of Florida with words. Kids will work together to create a poem by arranging cut-out words and phrases.
May 13, 2023, 11:00 a.m.–Noon at LeRoy Collins Main Branch Library, 200 W. Park Avenue, Tallahassee
A Place That Once Was
A neighborhood can often tell a story. Florida is home to many historic buildings and neighborhoods that have lots to say! Uncover how local landmarks such as The Grove, The Columns,and the Union Bank were preserved and what stories they tell. Kids will read along with "A House That Once Was" and make their own paper buildings.
June 10, 2023, 11:00 a.m.–Noon at Woodville Branch Library, 8000 Old Woodville Road, Tallahassee
History Under the Sea
Florida's long coastline and crystal blue waters make for excellent diving experiences! The wonders of the sea have called many people to explore the depths! Come learn about diving practices through the years. Kids will go on a 'dive' of their own and discover the wonders of Florida's waters!


History at High Noon
The Museum features casual monthly lunchtime talks by local experts on a variety of topics. Please note the location of each lecture as the presentation site may change from month to month.
Tuesday, March 28, 2023, Noon–12:45 p.m. at Mission San Luis, 2100 W. Tennessee Street, Tallahassee
Managing Coastal Archaeological Sites in a Storm-Prone State
Speaker: Melissa Price, Archaeologist, Bureau of Archaeological Research, Florida Department of State
In this presentation, Ms. Price examines the challenges inherent in managing coastal archaeological sites in a storm-prone state, discusses the State's ongoing research at Dog Island concerning past coastline changes, and highlights the importance of protecting archaeological sites and what the public can do to contribute to these efforts.
Annual Programs
20th of May— Emancipation in Florida

The Knott House Museum and the John G. Riley Museum host an annual celebration of  the 20th of May.  Learn more about this event and other community activities here.  
On January 1, 1863, President Abraham Lincoln issued the Emancipation Proclamation, freeing enslaved people in the rebelling Southern states. More than two years later, on May 10, 1865, Union General Edward McCook arrived in Tallahassee to take possession of the city from Southern forces. General McCook established his headquarters at the Hagner House, now known as the Knott House. On May 20, he declared the Emancipation Proclamation in effect. Former slaves celebrated this announcement with a picnic at Bull Pond, today's Lake Ella. Annually since 1865, communities in Tallahassee have celebrated May 20th as Emancipation Day.
 Summer Reading Program
Each July the Museum offers a Summer Reading Program based on a theme and featuring a weekly program with a book reading, a craft, a guest speaker, and other hands-on activities to engage young readers. The programs are geared to ages 10 & under and are free and open to the public.  A reading list of theme-related books focused on Florida is provided and readers who reads six or more books from our list will receive a special certificate from the Secretary of State and the Museum of Florida History.  This is a great opportunity to get everyone of all ages excited about reading!
Florida History Day
Sponsored by the Museum of Florida History, Florida History Day is an annual, statewide activity that enhances the teaching and learning of history in middle and high schools.  Florida joins 49 states, the District of Columbia, Puerto Rico, American Samoa, Guam, and international schools in East and South Asia as an affiliate of National History Day® (NHD). NHD promotes history in the classroom by offering students the resources and support to do original research about people, ideas, and events of the past. Learn more about Florida History Day here.
Children's Day  
Our annual kids fun day at the Museum features interactive booths, games, crafts, musical performances, storytelling, and more. Admission, parking, and activities are free!