Programs & Events
The Museum offers a number of recurring programs throughout the year
Monthly Programs
 

2nd Saturday Family Programs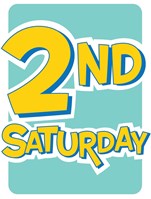 Join us on the 2nd Saturday of each month for a specially themed program featuring a hands-on activity for young historians. While the Museum is closed, we will be taking 2nd Saturday on the road, with programming in various locations held in conjunction with our community partners. Follow us on social media for the latest location, subjects, and more.
Upcoming Programs:
Music of the Caribbean
October 14, 2023, 11:00 a.m.–Noon, at the Eastside Branch Library, 1583 Pedrick Road, Tallahassee, Florida
Florida is home to a wide variety of music styles. For Hispanic Heritage Month, put on your dancing shoes and get ready to move to sounds from the Caribbean. Join us as we explore these vibrant musical traditions!
The Pumpkin Story
November 11, 2023, 11:00 a.m.–Noon, at Mission San Luis, 2100 West Tennessee Street, Tallahassee, Florida
Did you know pumpkins originated in the Americas? Pumpkins and other gourds were used by Indigenous peoples here in Florida for many purposes. Come learn about the history of the pumpkin and decorate your own to take home. Admission to Mission San Luis is free for program participants.
Flying in Florida
December 9, 2023, 11:00 a.m.–Noon, at the Lake Jackson Branch Library, 3840 N. Monroe Street, Tallahassee, Florida
Florida played a part in the development of American aviation as the weather and landscape created ideal conditions for early flight testing. Today Florida is home to many airports, Air Force bases, and space centers. Come learn about Florida's aviation history and take part in a flying contest.
​
History at High Noon
The Museum features casual monthly lunchtime talks by local experts on a variety of topics. Please note the location of each lecture as the presentation site may change from month to month.
Upcoming Programs:  
Civil War to the Centennial: Tallahassee 1861-1924
Tuesday, September 26, 2023, Noon–12:45 p.m. in the Heritage Auditorium at the R.A. Gray building, 500 S. Bronough Street, Tallahassee
Speaker: Kimberlyn Elliott, Senior Curator, Museum of Florida History
As Tallahassee's bicentennial nears, join Senior Curator Kimberlyn Elliott for a look at the city's journey from the Civil War through the centennial in 1924. This presentation highlights the changes that local citizens encountered in the decades after the war and the early beginnings of the modern cityscape.
The History of the Union Bank Building: 1835 to Present
Tuesday, October 24, 2023, Noon–12:45 p.m. in the Union Bank Building at 219 Apalachee Parkway, Tallahassee
Speaker: Michelle Hearn, Senior Curator, Museum of Florida History
Join Senior Curator Michelle Hearn as she explores the more than 150-year history of the Union Bank building. Completed in 1841, the territorial-period structure has housed a planter's bank, the Freedman's Savings and Trust Company, and numerous businesses and organizations. Ms. Hearn will also share plans for a new exhibit, created by the Museum of Florida History in collaboration with the Meek-Eaton Black Archives at Florida A&M University, set to open in the building in February 2024. 
Seating is limited; please reserve your spot by visiting https://bit.ly/3rXakPT.
Limited public parking is available in lot 4 next to the Union Bank. Metered street parking and downtown public garages are also available.
Annual Programs
20th of May— Emancipation in Florida

The Knott House Museum and the John G. Riley Museum host an annual celebration of the 20th of May.  Learn more about this event and other community activities here.  
On January 1, 1863, President Abraham Lincoln issued the Emancipation Proclamation, freeing enslaved people in the rebelling Southern states. More than two years later, on May 10, 1865, Union General Edward McCook arrived in Tallahassee to take possession of the city from Southern forces. General McCook established his headquarters at the Hagner House, now known as the Knott House. On May 20, he declared the Emancipation Proclamation in effect. Formerly enslaved people celebrated this announcement with a picnic at Bull Pond, today's Lake Ella. Annually since 1865, communities in Tallahassee have celebrated May 20th as Emancipation Day.
 Summer Reading Program
Each July the Museum offers a Summer Reading Program based on a theme and featuring a weekly program with a book reading, a craft, a guest speaker, and other hands-on activities to engage young readers. The programs are geared to ages 10 & under and are free and open to the public.  A reading list of theme-related books focused on Florida is provided and readers who reads six or more books from our list will receive a special certificate from the Secretary of State and the Museum of Florida History.  This is a great opportunity to get everyone of all ages excited about reading!
Florida History Day
Sponsored by the Museum of Florida History, Florida History Day is an annual, statewide activity that enhances the teaching and learning of history in middle and high schools.  Florida joins 49 states, the District of Columbia, Puerto Rico, American Samoa, Guam, and international schools in East and South Asia as an affiliate of National History Day® (NHD). NHD promotes history in the classroom by offering students the resources and support to do original research about people, ideas, and events of the past. Learn more about Florida History Day here.