School Bench
School Bench. Circa 1865-75? Wood, yellow pine. [Vernacular style] Acc. No. 46780.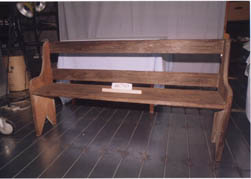 Description: Shaped and sawn sides with armrest, single plank for a seat. Two thin planks nailed to back. Seat slotted into sides with a dado as well as nailed. Has been painted in the past; currently has a layer of gray paint over most of the surface of the piece.
Discussion: This piece of vernacular furniture was part of a school for emancipated slaves in the Merritt Island area of Florida's east coast. 
The school building, as well as this bench, were made by Mr. Andrew Jackson of Allenhurst. This piece was purchased in February 1930 by the Florida State Museum in Gainesville and transferred to the Museum of Florida History in 1980. Not currently on exhibit.
Bibliography
Butler, Joseph T.

 

Field Guide to American Antique Furniture.

 

New York: Henry Holt, 1986.

(See esp. p. 241, #1)

Schwartz, Marvin D.

 

Furniture: Chairs, Tables, Sofas, and Beds (The Knopf Collectors'

Guides to American Antiques)

 

New York: Alfred A. Knopf, 1982. (See esp. p. 201)