Folding chair
Folding chair. Circa 1870–90. Wood, walnut, with oak secondary wood, cloth, brass. [Renaissance Revival style] Acc. No. 45263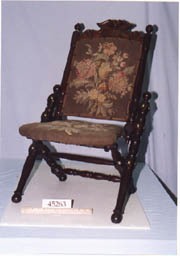 Description: Turned "X" folding legs with small brass hemisphere bosses. Heavy upholstery cloth seat with woven pattern of realistic tulips, peonies, and unidentified flowers with greenery. Gimp border with decorative headed upholstery tacks. Modern staples under gimp indicate a possible 20th-century reupholstery. Ball finials on top of stiles. Shaped and incised crest rail. Clear natural resin varnish now aged and darkened. Second coat of a more recent varnish also present.
Discussion: The Renaissance Revival, represented by this chair, was one of the more "Victorian" of 19th-century styles. It uses elaborate shapes of wood, contrasting colors and textures of wood, a variety of materials, usually including metal and marble as well as wood. Incising and carved elements usually are plentiful. This chair would have been at home in a formal parlor, one of the least used rooms in most middle-class houses of the period, which might account for its relatively excellent condition. It was owned by a Pensacola family that lived in an upper middle-class section of town in the late 19th-century. It was donated to the Florida State Museum in October 1929 and transferred to the Museum of Florida History collection in 1980. Not currently on exhibit.
Bibliography
Ames, Kenneth (ed.) Victorian Furniture: Essays from a Victorian Society Autumn

Symposium.

 

Philadelphia: Victorian Society in America, 1982.

Bishop, Robert C.

 

The American Chair: Three Centuries of Style.

 

New York: Dutton, 1972.

Fitzgerald, Oscar P.

 

Three Centuries of American Furniture.

 

Englewood Cliffs, N.J.:

Prentice-Hall, 1982.

Hanks, David A.

 

Innovative Furniture in America from 1800 to the Present.

 

New York:

Horizon Press, 1981.