Supreme Court Justice Bench
Supreme Court Justice Bench
Supreme Court Justice Bench, 1902. Wood, oak veneer over oak; metal hardware [Vernacular style] Acc. No. 78.54.00.04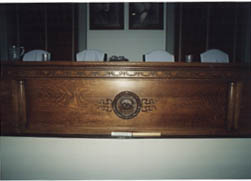 Description: Artifact is a long rectangle in three sections. Decorative molding along top edges and sculptural motif in the center front of each section. Corners and section joints have miniature classical ionic columns. One shelf below desktop in back. Inscription on seal in center section: "Supreme Court of the / State of Florida / Sat Cito Si Recte [soon enough if right]."
Discussion: As part of the massive $75,000 expansion of the Old Capitol in 1902, new furnishings for all three branches of government were ordered from M. Ohmer's Sons of Cincinnati, Ohio. This massive quarter-sawn oak judicial bench was used by the six Florida Supreme Court Justices who heard cases in 1902. Later, the Supreme Court moved out of the Capitol building into the Whitfield Building (1912), taking this piece and most of their furnishings with them. A second move in 1949 to the present Supreme Court Building allowed the justices to purchase all new furniture. This object passed to the Public Service Commission, which used it until 1978 when the restoration of the Old Capitol began. The commission generously donated the bench to the Museum of Florida History. Curators placed the artifact back in its original location, where it remains on exhibit as part of the permanent restoration of the building.
Bibliography
Galbraith, Christine, and Barbara Miller. Historical Documentary Research Project: 1902 Florida Capitol Restoration, First, Second, and Third Reports. Tallahassee: Historic Tallahassee Preservation Board, 1979.