Learning Resources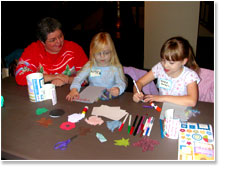 The Museum produces a variety of resources to assist K-12 educators and to enhance the general public's appreciation of Florida history. Items for classroom use, including pre-visit materials, typically provide background information and lesson ideas, developed with state curriculum guidelines in mind. Students and adults who are researching historical topics are welcome to contact the Museum to inquire about resources and possible handouts.
Learn About Florida
Classroom Activities
Survival Florida

 

Need some extra FCAT practice? This activity focuses on Florida's Early People, the Timucuans, and Spanish Explorers. The activity promotes reading, writing, and math in accordance to Florida's Sunshine State Standards. (3-5th grade)
Indian Village at Lake Okeechobee

 

Learn about Hernando d'Escalente Fontaneda and the how the Indians around Lake Okeechobee lived when the Spanish arrived. This classroom activity can be adapted to fit your class.
Anthropologist Notebook Cultural anthropologists study human cultures to understand how we all relate. They often interview people to gather their data. Use this notebook to gather your own data by "interviewing" two of the Museum's residents.
Craft Activities
My Own Park Avenue  Download and print this document to create your own model of the Lewis Park area of downtown Tallahassee, Florida. 
Spanish Armor The Spanish explorers and their soldiers who came to La Florida wore protective clothing and headwear and carried weapons for fighting. This activity discusses their protective clothing and how to make your own chain mail.
Making an Astrolabe

 

What is your latitude? Make a navigational instrument similar to those used by the Spanish. Figure out how far north or south you are on the Earth's surface from the Equator.
Animal Masks Use this template to create your own mask featuring an animal found in Florida's Everglades. 

Click here for a variety of how-to videos from past Museum activities. 
Online Resources: