Richard Keith Call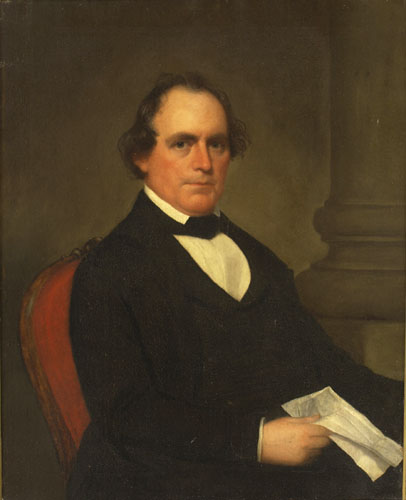 Oil over photograph, Claribel Jett, ca. 1960
Richard Keith Call 
(1792–1862)
---
Third territorial governor
March 16, 1836 to December 2, 1839
Fifth territorial governor
March 19, 1841 to August 11, 1844
Richard Call, the namesake of his uncle, a Revolutionary War hero, was born in Virginia on October 24, 1792. He came to Florida in 1814 as the personal aide of Andrew Jackson, returned with him to Pensacola in 1821 to set up the new territorial government, and decided in 1822 to make Florida his home. He served as a member of the Legislative Council, a delegate to Congress, and, finally, territorial governor.
Call led the Florida militia in fighting the Seminoles during his first term. During his second administration as governor, he moved the territory closer to statehood and tried to minimize the financial problems that Florida experienced because of bank failures and the national business depression.
Call built an estate in Tallahassee, called "The Grove," in the 1830s. The structure, now on the National Register of Historic Places, later became the home of another governor, LeRoy Collins, and his wife Mary Call Collins, a descendant of Governor Call. Richard Keith Call died at The Grove on September 14, 1862.