Fuller Warren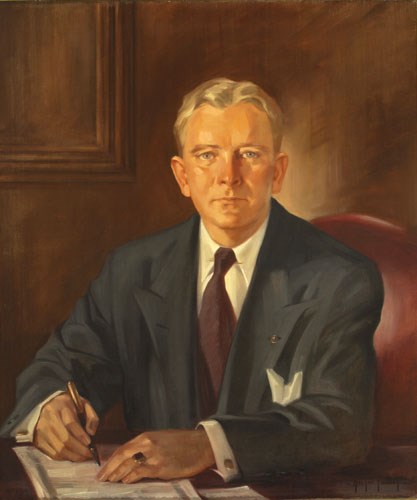 Oil on canvas, Alleyne Foster, ca. 1950
Fuller Warren 
(1905–1973)
---
Thirtieth governor
January 4, 1949 to January 6, 1953
Fuller Warren was born in Blountstown on October 3, 1905. While a student at the University of Florida, he was elected to the House of Representatives and served in the 1927 session at the age of twenty-one. Warren moved to Jacksonville in 1929 to practice law, served three terms on the city council (1931-37), and was elected to the 1939 House of Representatives.
Warren was a Navy gunnery officer in World War II, crossing the Atlantic twenty times. He wrote three books, including How to Win in Politics.
During Governor Warren's term of office, cattle ranchers were forbidden to allow their stock to wander freely on Florida's highways, new quality-control programs for Florida citrus fruit were begun, a model reforestation program was started, and preliminary plans for the Florida Turnpike were completed.
After serving as governor, Warren moved to Miami and practiced law there. He was defeated in 1956 for the Democratic nomination for governor and died in Miami on September 23, 1973.