Richard L. Scott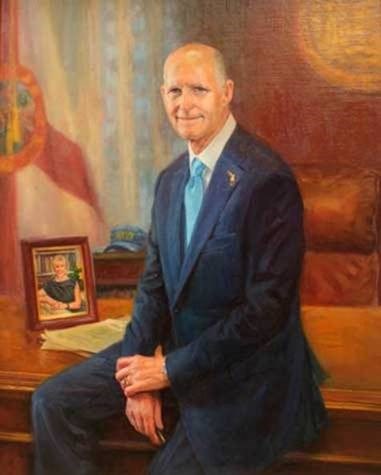 Oil on linen, Edward Jonas, 2019
Richard L. Scott 
(1952–)
---
Forty-fifth governor
January 4, 2011 to January 7, 2019
Born in Bloomington, Illinois, and raised in Kansas City, Missouri, Rick Scott came from humble beginnings. His father was a bus and truck driver, his mother worked as a store clerk, and their family lived in public housing. In high school, Scott met his future wife Ann. After high school and community college, Scott enlisted in the U.S. Navy, where he served aboard the USS Glover as a radar man. The G.I. Bill enabled him to attend college and law school. He graduated from the University of Missouri-Kansas City with a degree in business administration and earned his law degree from Southern Methodist University.
After law school, Scott stayed in Dallas and worked for the city's largest law firm. While still practicing law, Scott started Columbia Hospital Corporation with his and Ann's entire life savings. When Scott left Columbia in 1997, it had become the world's largest healthcare company. After leaving HCA, Scott continued to pursue business ventures. Scott ran a successful campaign for governor in 2010, and was subsequently reelected in 2014. Before moving to Tallahassee, the Scott family lived in Naples, Florida.
As Governor, Scott focused on creating jobs and turning Florida's economy around. While in office, Scott successfully championed tax cuts and reduced burdensome regulations, allowing Florida businesses to create nearly 1.7 million private-sector jobs, and unemployment dropped from nearly 11 percent to 3.3 percent. Scott also led the state through some of the most challenging times in recent history, including Hurricanes Hermine, Matthew, Irma and Michael. In 2018, after two terms as Florida's governor, Scott was elected to the U.S. Senate.