Kenneth Hood MacKay, Jr.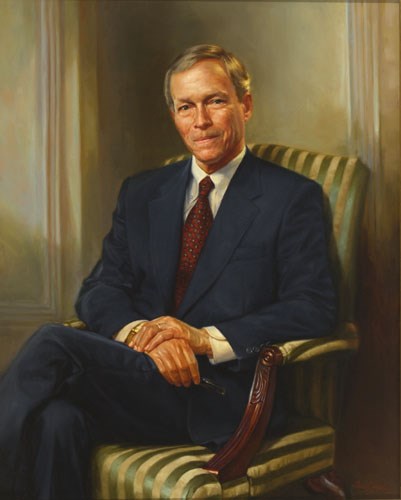 Oil on canvas, Edward Jonas, 2001
Kenneth Hood MacKay Jr.
(1933–)
---
Forty-second governor
December 12, 1998 to January 5, 1999
Members of the MacKay family have been Florida citrus farmers in Ocala and Marion county for the past three generations. Buddy MacKay served in the U.S. Air Force in the 1950s, then attended the University of Florida, earning a law degree. He opened a law practice in Ocala. In 1960 he married Anne Selph; they have four sons. MacKay was elected to the Florida House of Representatives in 1968, then elected to the State Senate in 1975. In 1982 voters elected him to the U.S. Congress where he served three terms. During those years MacKay worked with a group of congressmen to help bring the national budget under control. Finally, in 1990, MacKay teamed with Lawton Chiles, serving as Lieutenant Governor for two terms, from 1990 to 1998. Upon Governor Chiles sudden death, MacKay assumed the governorship for the remaining three weeks of Chiles' term.