Claude Roy Kirk, Jr.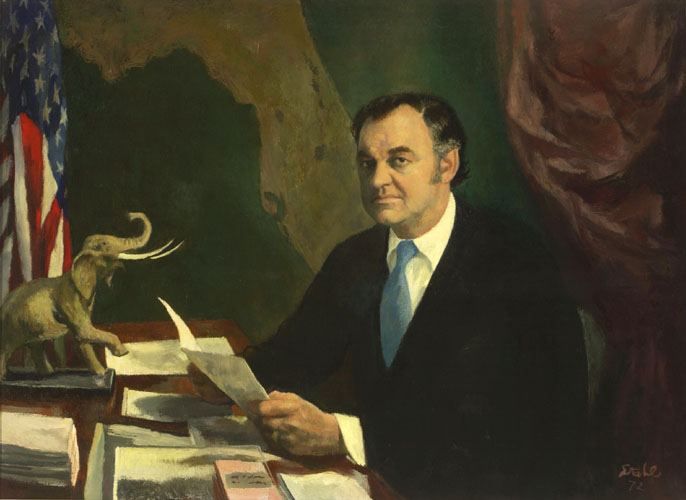 Oil or acrylic on canvas, Ben Stahl, 1972
Claude Roy Kirk , Jr.
(1926–2011)
---
Thirty-sixth governor
January 3, 1967 to January 5, 1971
Born in San Bernardino, Calif., Claude Kirk's family also lived in Chicago, Ill., and Montgomery, Ala. After graduating from high school at age seventeen, he enlisted in the U.S. Marine Corps and rose to the rank of lieutenant. Kirk served in both World War II and the Korean War. After the wars, he founded a highly successful life insurance business and became involved in several investment companies.
Kirk switched from the Democratic to the Republican party and led the "Floridians for Nixon" campaign in 1960. He ran unsuccessfully for the U.S. Senate in 1964 and then ran for governor in 1966. When Florida voters elected him that year, Kirk became the first Republican to win the governorship since 1872. During Kirk's years in office a new Florida constitution went into effect (1968). The governor was often at odds with both Democrats and his Republican colleagues in the legislature. After his term in office, Kirk returned to his business pursuits, though he campaigned several times for governor, U.S. senator, and Florida commissioner of education.