John Wayne Mixson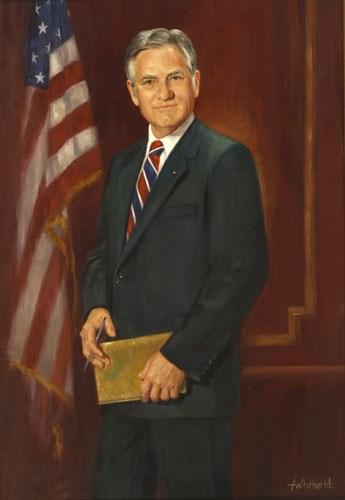 Oil on canvas, Ann Whitfield, 1988
John Wayne Mixson 
(1922–2020)
---
Thirty-ninth governor
January 3, 1987 to January 6, 1987
Wayne Mixson was born June 16, 1922, in New Brockton, Alabama. Immediately after graduation from high school he moved to Florida. During World War II, Mixson served in the Navy, attending Columbia University and the University of Pennsylvania. In 1947 he graduated from the University of Florida with a degree in Business Administration. That same year he married Margie Grace of Graceville. For forty years he owned and operated a two thousand acre farm and cattle ranch in Jackson County.
Mixson began his career in public service by campaigning for the Florida House of Representatives. Voters elected him to six consecutive terms. In 1978 he was elected Lieutenant Governor on the ticket with Governor Bob Graham. The Graham-Mixson team was re-elected in 1982, when Mixson was also appointed Secretary of Commerce. In January 1987 Mixson became Governor when Governor Graham left office to serve in the U. S. Senate.
Governor Mixson was awarded an honorary doctorate from the Florida Institute of Technology. He served on several boards of directors, including Bankers Insurance Company and the First Community Bank in St. Petersburg, First Community Insurance Company of Rochester, N. Y., the Florida Economic Club, Florida Tax Watch, the University of Florida Foundation, and the North Florida Community Foundation.