Robert Lewis, Jr.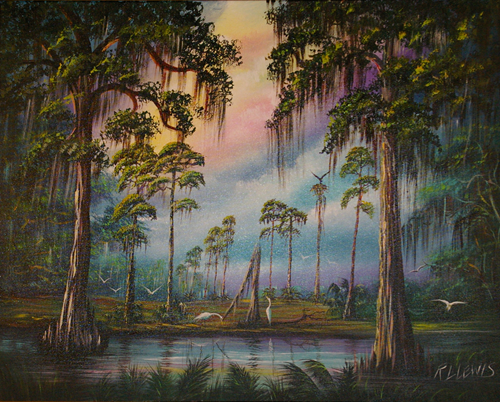 Robert Lewis, Jr.
(1941−)
Tate's Hell
Acrylic on canvas, 2009
H: 28 ¾" W: 35"
Acquired from the artist in 2009
Robert "R. L." Lewis, Jr. grew up and continues to live in Cocoa, Florida. In the eleventh grade, Lewis was injured practicing football and could no longer play, so he took an art class, where his talent was discovered. Lewis went to Florida A&M University and graduated with a degree in art education. He met the Newton brothers in 1969. They were impressed by his ability to paint, and he was influenced by their style of painting. For more than thirty years, Lewis worked as an art teacher in the public school system. He continues to teach painting today through his Learn to Paint DVD series and by traveling around the state presenting to thousands of school children. Today, Lewis prefers to work with acrylics because they dry faster than oil paints.