Living Room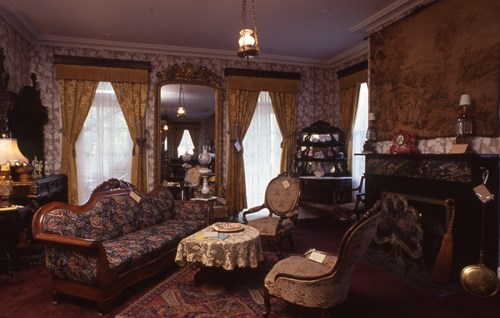 Originally, this space was actually two rooms. Caroline Scott, who owned the home before the Knott family, used the front room as the living room and the back room as the dining room. Luella Knott had the pocket doors dividing the rooms removed and converted the space to one large living room. She furnished the room, along with the rest of the house, with the Victorian era antique furniture and décor that she favored. "I loved old things which at that time were practically given away because everybody seemed to want the new styles," she wrote. "There were no antique shops, but antiques were often found in 'our second-hand stores.'"
The Knotts often used the living room for entertaining guests. Through his decades-long career in State service, William Knott came to know many high-ranking officials. In 1942, he hosted a dinner for Governor Spessard Holland. A long table "was set up in the spacious living room" where the dinner took place. Mrs. Knott often decorated the room when hosting social occasions. Sometimes her guests mingled here before and after enjoying a meal in the dining room.
Mrs. Knott wrote short poems on note cards about various pieces of furniture. She attached ribbons to the cards and hung them on the furniture that the poem described. Visitors can see these poems in the living room and other rooms of the house. A 1950 newspaper article referred to the home as "the House that Rhymes." The house was also well known for its antique furnishings. One visitor remarked, "This should certainly be a museum."

Knott House living room, ca. 1940s
Courtesy of the State Archives of Florida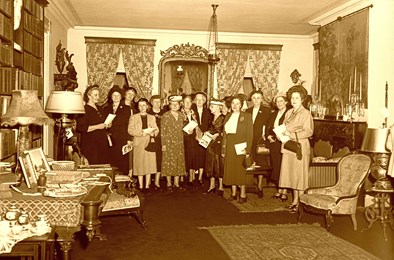 Women's Club in the Knott House living room during Tallahassee Trail event, 1950
The local Women's Club hosted this tour of historic homes.
Courtesy of the State Archives of Florida
Knott House Museum living room photo at top by Ray Stanyard