Dining Room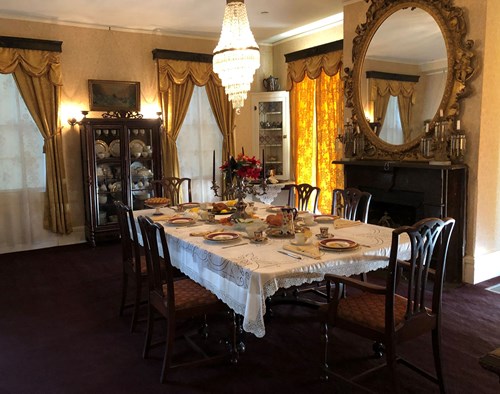 Part of the early addition to the house, this elegantly furnished dining room was the scene of many a society event hosted by the Knott family. The 1920s and '30s may have been a time of changing forms of entertainment with the growth of radio and talking motion pictures, but white upper and middle class Tallahassee residents still loved to host teas, receptions, bridge parties, and other social events. Such occasions were held in private homes or in local restaurants. At the time, Tallahassee was segregated. The society pages of Tallahassee's
The Daily Democrat reported on the happenings of the town's local white society women. Stories described women putting on teas or dinners, clubs holding various events, and what residents were entertaining out-of-town guests. Luella Knott was mentioned often.
Mrs. Knott hosted many teas, dinners, club meetings, and other social gatherings at the family's Park Avenue home. She tailored the decorations to fit the season, or sometimes to cater to the group that met at the home. At a tea for a local sorority, the dining room was decked out in the sorority's colors of "cardinal and straw." Since the tea was held shortly after Halloween, decorations also included "jack o lanterns casting a soft light over the rooms." At a Christmastime luncheon for Mary Holland, the wife of Florida Governor Spessard Holland, "a Santa in red with silver icicles overlooked the buffet," and a Santa statue was "mounted on a gigantic epergne filled with miniature red Christmas trees." Society page articles often noted furnishings such as the epergne, buffet, chandelier, dining room table, and oval mirror in the ornate gold frame. These furnishings can be seen today at the Knott House Museum.
Like most white families in the South who could afford it, the Knott family employed African American domestic workers. Behind the scenes, it was these workers who prepared food for social events hosted by white families. The Knotts usually had a maid, a cook, and a male servant. As was typical, they were African American.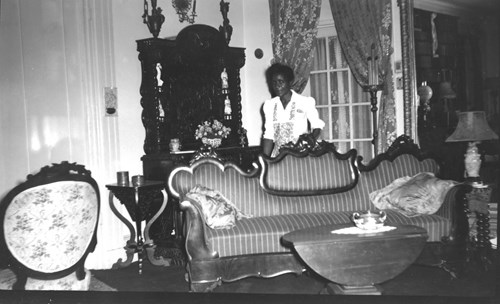 Alberta Garrett, longtime employee of the Knott family
The Knotts' son James said his mother hired her, "when Alberta was no more than fifteen." She later married Arthur Garrett, a bellman at the Cherokee Hotel next door. Alberta Garrett remained with the family off and on for about twenty years. She seems to have had a good/bad relationship with the family. In 1942, Mrs. Knott wrote, "Even to have this little devil of an Alberta – always loyal and helpful – is a joy."
Knott House Museum collection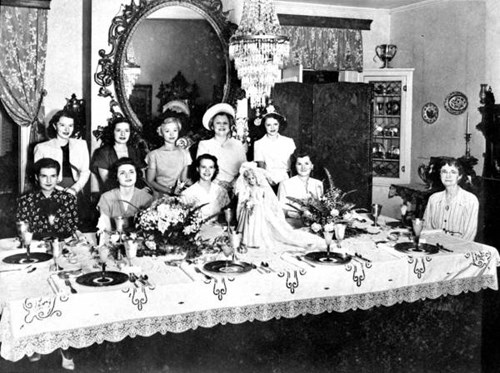 Bridal luncheon in the dining room, ca. 1940s
Luella Knott sits at the far right.
Courtesy of the State Archives of Florida