Meet the Knotts
William and Luella Knott: the poet 
and the politician
Who was Luella Knott?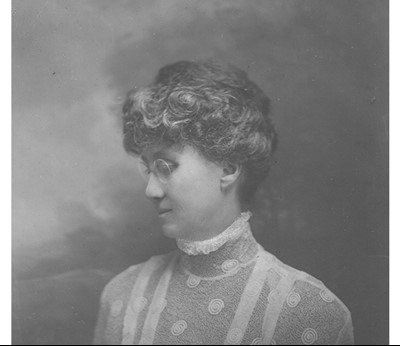 Luella Pugh Knott was born in Graham, North Carolina, on May 31, 1871. Her parents died of tuberculosis when she was only six years old. This early loss caused Luella to develop strong character. Her determination enabled her to graduate from Greensboro Methodist College in 1891, a rare achievement for women of that era. Later, she taught school in central Florida, where she met her future life-partner.
William and Luella married in 1895. His political career brought them to Tallahassee, where Mrs. Knott became involved in banning alcohol and many charitable causes. She also published her music, poetry, and other writings. However, family life remained her top priority. She was a devoted mother of three children, whom she schooled at home.
Despite the fact that she suffered from poor health on and off throughout her life, she entertained frequently in her home. She attached poems to her furnishings with satin ribbons, drawing attention to her unique antiques. The Victorian setting gave a feeling of rich heritage, but in reality she possessed little of her parents' belongings, having been orphaned as a young child. She often shopped at estate sales for vintage pieces. She worked very hard to "fit in" with the "old money" society that wielded much power in the 1930s.
Luella passed away on April 11, 1965, eight days after her husband died. She was 93 years old.
Who was William Knott?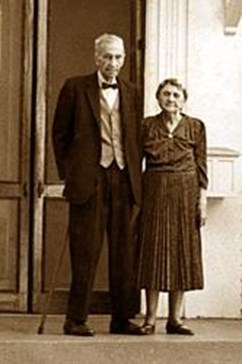 William Valentine Knott was born in Terrell County, Georgia, on November 24, 1863. He moved via covered wagon to central Florida in 1881, where he helped his parents establish citrus groves near Leesburg. Later he opened a phosphate mining business with his brother Charles near Ocala. Always good with numbers, he took jobs in accounting and worked with his brother in local government. While William's career opportunities in economics advanced, he still maintained an interest in agricultural work and a love for farming.
William and Luella made their home in Tallahassee in 1897 when he became Florida's first state financial agent under Governor Mitchell. In 1901, Governor Jennings changed the newly created position to "State Auditor." W. V. Knott was so dedicated to his task of finding clerical errors and shortages from county to county that he declined a promotion to the comptroller's position in order to finish his work as the auditor. William earned an admirable reputation during these years and was appointed by Governor Jennings to the position of State Treasurer in 1903, replacing James Whitfield who became Attorney General. The public re-elected Knott the following year for a full term. In 1912, when State Comptroller A. C. Croom died in office, Governor Gilchrist knew W. V. Knott was the most qualified man to replace him. Later that year he was again elected by public vote to remain in the position.
By 1917, William was well known for his genius for organization, his attention to detail, and his honesty. He was selected as the Democratic candidate for governor, but in a close and confusing election, the Prohibition candidate, Sidney Catts, was elected governor in 1917. For the first time in twenty years, W. V. Knott did not hold public office. William returned to agricultural and other business pursuits until 1921 when the Board of State Institutions under Governor Cary Hardee appointed him administrator of the state hospital in Chattahoochee. William achieved much success at this daunting task, and within two years had the hospital in better shape than it had ever been.
Even before the start of the national Depression, bank failures and a devastating hurricane threatened Florida's economy and Governor John Martin appointed William Knott to his original post as auditor in 1927. The Knotts returned to Tallahassee and moved into the house that is now the Knott House Museum. In September 1928, William's friend, State Treasurer John Luning, passed away, and at 64 years of age, William was appointed to the position of Treasurer for a second time. Again he had to campaign for election and again he won the support of the people. Now serving under his sixth governor, Doyle Carlton, Knott's experience as a "grand old man of the state" was greatly appreciated during the economic pressures of the Depression Era.
William Knott remained the Treasurer under two more governors, David Scholtz and Fred Cone, before announcing his retirement at age 75. The longest term of service in the treasurer's office ended in 1941.
William was born during the Civil War when Abraham Lincoln was president, and he died on April 3, 1965, when Lyndon B. Johnson was in office. William passed away at this home, reaching 101 years of age. His body was brought to the Capitol Rotunda where hundreds came to pay tribute to the man who had given so many devoted years of service to the state of Florida.
Luella passed away eight days after her husband died. The following poem is believed to be the last one that she wrote, created only days after her husband's death and only days before her own.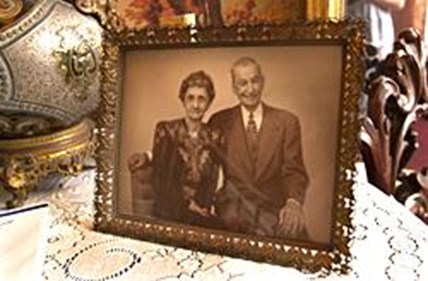 Somehow, a mist is in the sky,
The shadows closer, darker lie.
Since then;
The days have been so gray and long,
without a note of cheery song,
And everything's been going wrong
Since then . . .
The light grows dimmer every day,
My voice grows weaker when I pray,
Since then;
Not that I'd want to call him back, ah, no!
God knows I wanted him to go,
But somehow something hurts me so,
Since then.
There's nothing now to hold me here,
And everything to draw me there,
Since then;
Sweet Sorrows taught me how to see
And hear and feel, and want to be
With that dear voice that's calling me -
Since then.