Mr. Knott's Bedroom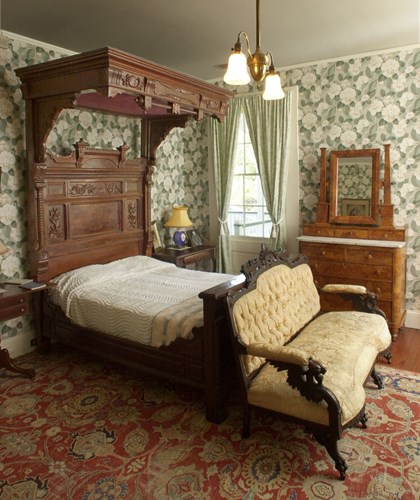 This room has been recreated as William Knott's bedroom. William and Luella Knott, and their son James, all had their bedrooms upstairs when the Knotts moved into the house in 1928.
Their other two children, Charlie and Mary Frank, were already grown and lived away from home.
One can imagine the sounds of the city outside this window when the Knotts lived here. The house was located near the busy downtown, and the Cherokee Hotel was right next door on the other side of Calhoun Street. The Walker Library was just past the hotel. Not only did it have books, but patrons often played chess inside on the balcony. During a time of segregation, the Walker served as a social center as well as library for white Tallahasseans. In a letter to her son James, Luella Knott noted that her husband enjoyed "being right in the middle of everything
so much."
In the late 1930s, as Mr. Knott got older, his bedroom was moved permanently downstairs. He remained engaged with former colleagues, even after he retired from State government. As one newspaper reported, "He wakes at 7:00 a.m. every morning, shaves, and dons a coat and tie before eating a big breakfast of bacon, eggs and coffee. Then he walks to the post office and sometimes the five blocks to the State Capitol Building to chat with friends he worked with as the state was growing up."
Mr. Knott's bedroom, ca. 1930s–50s
Collection of the Knott House Museum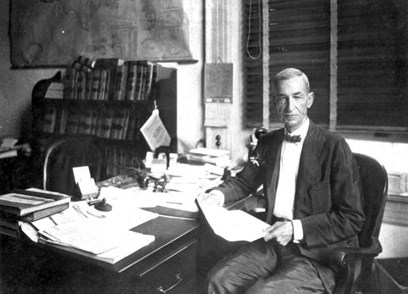 William Knott, State Treasurer, at his office, 1933
Courtesy of the State Archives of Florida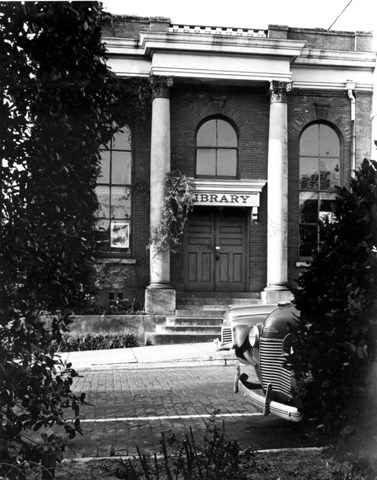 Walker Library, ca. 1940s
Former governor David S. Walker began Tallahassee's first library at the corner of McCarty Street (Park Avenue) and Monroe Street. It was a subscription library, and patrons paid a fee to use it. In 1903, a new library, named for Walker, was built a short distance down McCarty Street. Tallahassee was segregated at the time, and only white people could use the library.
Courtesy of the State Archives of Florida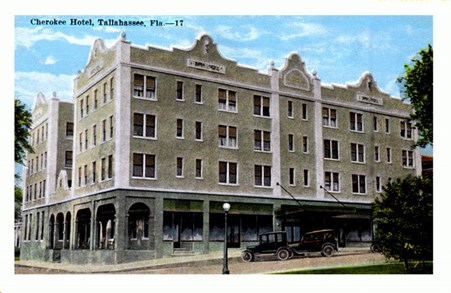 Cherokee Hotel, ca. 1920s
The Cherokee Hotel opened at the corner of Calhoun Street and Park Avenue in 1923. It was demolished in 1964.
Courtesy of the State Archives of Florida