Group Programs
The Knott House Museum is currently closed while we work to preserve the historic interior, improve the visitor experience, and create new exhibits to engage the public about the Knott family and Tallahassee history. If you have comments or questions, please email [email protected].
The Knott House offers a number of options for groups. Walk with us through our 1930s-themed home and learn about the Knott family and life during the Great Depression. These educational programs are provided for schools, camps, church groups, Girl Scout troops, senior citizens, community groups, home schoolers, and more. Call us for information on reserving a spot today at 850.922.2459.
The following programs can be modified to the needs of your group:
General Tours
Preserved as the Knott family kept it in 1928, this uniquely furnished home of a poet and a politician inspires the telling of many tales of Tallahassee's past. Group tours are offered by reservation for $1.00 per person.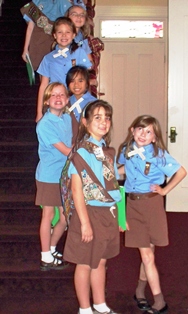 Thingamajigs
The history of the home spans from 1843 to the present. In that time frame technology has undergone significant changes in order to fulfill the needs of society. Join us as we investigate a number of old-fashioned tools to discover their functions and what the objects reveal about the lives of the people who used them. This hands-on program can be added to your general tour at no cost.
Poetry Tour
Luella Knott was a locally recognized poet who enjoyed hanging poetry cards on her furniture. Our educators discuss different topics ranging from parodies to couplets, and compare Romantic to Modern poetry styles. Students are encouraged to write their own poems and learn about the correlations between history and literature. Group tours are offered by reservation for $1.00 per person.
African American History Tour
Although our focus is mostly on the Great Depression, the historical significance of this old house greatly precedes that time. The Knott House is known for being the location of the announcement of the Emancipation Proclamation in 1865 by Union General Edward McCook, who had his headquarters in the home. Learn about other contributions of African Americans who walked through the halls of this home. Includes the new film, Strife, Struggles, and Freedom. Group tours are offered by reservation for $1.00 per person. 
Programs for Tea Party, Radio Plays, 1930s Fashion and Dance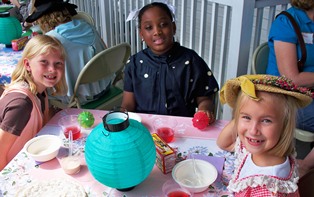 Designed to explore American popular culture in the 1930s, these programs allow any group of children with adults to gain an understanding of life during the Great Depression. These programs can be adapted to the needs of most youth groups including, but not limited to, Girl Scout troops, church groups, and home schoolers. Refreshments are provided. Two-hour programs are $5.00 per person and three-hour programs cost $10.00 per person. Seating for these programs is limited, so please call in advance. For more information on reservations and pricing, contact at 850-922-2459.