Family Room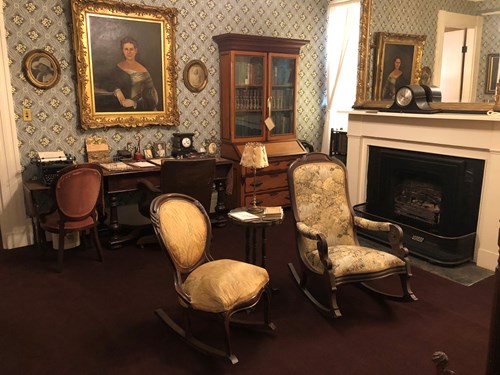 Part of the early addition to the house, this room was sometimes used as a bedroom and sometimes as a sitting room or study. Caroline Scott, who owned the house before the Knotts, made her bedroom here. The Knott family turned it into a sitting room. As a sitting room or study, this room would have been a private, informal space for the family. Mr. Knott could work at his desk, and Mrs. Knott could use the typewriter here to write her poetry.
Family members might sit here to read the newspaper or a book, or listen to music on the radio or phonograph. For the Knotts, the radio was a new form of entertainment that quickly became popular. By the end of the 1930s, almost every American home had at least one of the devices. In addition to music, radio stations broadcast sports, news, live events, and variety programs. In 1935, Tallahassee's first commercial radio station, WTAL, hit the airwaves. Mr. and Mrs. Knott may have relaxed here while listening to some of their favorite shows such as
Lum and Abner, Amos and Andy, and Ed Sullivan.
The Knotts also enjoyed reading the newspaper. Their granddaughter noted that Mrs. Knott "always read newspaper cover to cover." When describing their day in a letter to the Knotts' son James, Mrs. Knott wrote that her husband "sat at his desk and read the paper for an hour." Apparently, Mr. Knott had a taste for chocolate. During the home's restoration, many chocolate wrappers were found hidden in the desk. Since Mrs. Knott was so careful about her diet, maybe he feared her disapproval!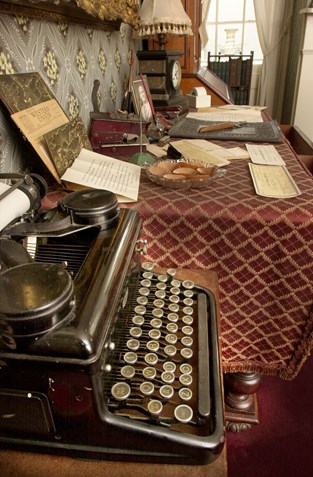 Mrs. Knott's typewriter and Mr. Knott's desk
On the desk, just past the typewriter, can be seen some of the chocolate wrappers found during the home's restoration.
Photo by Ray Stanyard