20th of May Commemoration
20th of May Commemoration

 A special thanks to our Community Partners and Community Supporters for their generosity.
Events
2022 events recognize the emancipation of enslaved persons in Florida and take place throughout the month of May.
Tallahassee activities listed below are free unless marked with an asterisk(*).


THURSDAY, MAY 19 
4:00–7:00 p.m. — "Watching for Freedom – The Dawn of A New Day" located at Parkview Center-Cascades Park
Dr. Natalie R. King-Pedroso and Cotton Boll Collective host an evening of reflections of Freedom Eve and May 20 past celebrations that took place in Florida communities. 4:00-7:00 p.m.

FRIDAY, MAY 20
9:00 a.m. — Church bells in the Tallahassee area ring will ring for 2 minutes on May 20th to announce the dawning of the special day of freedom.

Co-Cathedral of St. Thomas More
Trinity Methodist Church
St. John's Episcopal Church
Elizabeth Popular Springs Primitive Baptist Church
East Hill Baptist Church
St. Peter Primitive Baptist Church
Shady Grove #1 and #2 Primitive Baptist Churches
East Spring Baptist Church of Christ


10:00 a.m. — John G. Riley Center & Museum Civil War Commemorative Service at the Old City Cemetery
Grave decorating at the Old City Cemetery


11:30 a.m. — Dramatic Reading of the Emancipation Proclamation
Speeches and music are presented on the front steps of the Knott House Museum. This year's program features special guest Dr. Larry Rivers, Elder Chris Burney, and members of the Tallahassee Symphony Orchestra. After the program, free lunch and activities are available in Lewis Park across from the Knott House Museum. Local drummers will also compete in the May 20th Hunter Hill Drum Competition.   


1:00–4:00 p.m. — The Grove Museum
Tours about slavery and civil rights offered on the hour. The State Archives of Florida will be onsite with documents related to emancipation in Florida from 2:00-4:00 p.m. 


        2:00–4:00 p.m. — Free admission to local African American history sites 
Goodwood Museum and Gardens
The Grove Museum
Tallahassee Museum
John G. Riley Center & Museum
Museum of Florida History
3:00 p.m. — Tallahassee Museum
Guest speakers Gloria Jefferson Anderson and Hunter Hill will discuss the history of slavery, emancipation, and celebration in Leon County.

        7:00–11:00p.m. — Emancipation and Abolitionist Ball* 
National Guard Armory
MAY 1-31
LeRoy Collins Leon County Library branches, historical book displays and online resources at: LeonCountyFL.gov/EmancipationDay
Division of Library and Information Services, various resources at:dos.myflorida.com/library-archives/research/explore-our-resources/emancipation/
Dr. Aron Myers, the Executive Director of the John G. Riley Center & Museum, the co-presenter of this commemoration since 2001, discusses the importance of the 20th of May to the African American community in Tallahassee.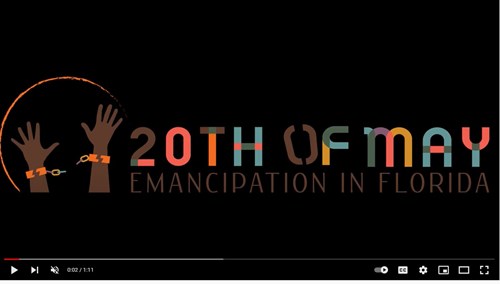 For many years at the Emancipation Day celebration, Mr. Brian Bibeau has portrayed General Edward McCook during a dramatic reading of the Emancipation Proclamation. We are honored to have community leaders from across the state join him in reading the Emancipation Proclamation. Click here to download a transcript of the Emancipation Proclamation or turn on closed captioning in the video to follow along as they read this important document.
One of the 2019-2020 Florida Folklife Apprenticeship awards went to Master artist Hunter Hill Jr. of Tallahassee for emancipation drumming. This program keeps traditional knowledge alive by passing it to an apprentice. The next year, John G. Riley Museum continued this project by inviting others in the community to learn the freedom beat. This new documentary explores history behind the drumming and the success of the emancipation drumming program.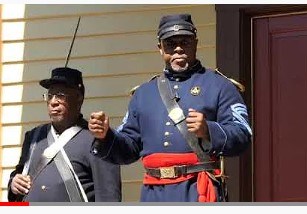 The History of 20th of May
On January 1, 1863, President Abraham Lincoln issued the Emancipation Proclamation, freeing enslaved people in the rebelling Southern states.
"That on the first day of January, in the year of our Lord one thousand eight hundred and sixty-three, all persons held as slaves within any State or designated part of a State, the people whereof shall then be in rebellion against the United States, shall be then, thenceforward, and forever free...."
Emancipation Proclamation
It was more than two years later at the end of the Civil War, on May 10, 1865, that Union Brigadier General Edward M. McCook arrived in the state capital of Florida, Tallahassee, to take possession of the city from Southern forces. General McCook established his headquarters at the Hagner House, now known as the Knott House, located four blocks from the State Capitol. On May 20, after official control of the region was transferred to Union forces, he declared the Emancipation Proclamation in effect. That same day an announcement arrived in Tallahassee sent by Major General Quincy A. Gillmore via train from Jacksonville.  General Gillmore's Special Order Number 63 noted that "the people of the black race are free citizens of the United States."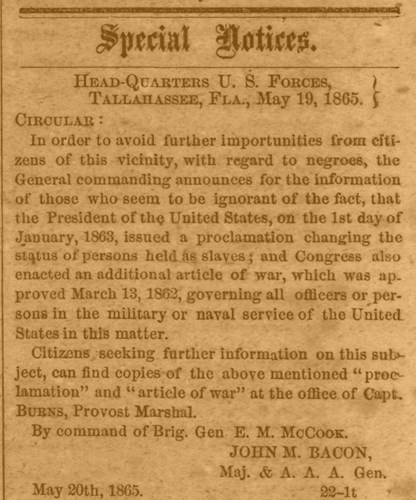 Notice in the Floridian and Journal, May 20, 1865 regarding the Emancipation Proclamation
Newly freed slaves celebrated this announcement with a picnic at Bull's Pond, which is located in Tallahassee and today called Lake Ella. Since that first celebration in 1865, communities in Tallahassee have annually celebrated May 20th as Emancipation Day, and today, activities still are held throughout the city.

"Yesterday was a great day with the Freedmen. It was the anniversary of Gen. McCook's General Order announcing their freedom, based on Mr. Lincoln's proclamation of 1863. At an early hour, they commenced coming into town and by 9 o'clock the streets were pretty well crowded….the procession marched up Main street, with the U.S. flag flying at intervals along their ranks. During their march, and all along the road out to the speaking ground, the air was frequently rent with cheers raised through the whole line….In spite of the efforts of the head men to keep them out of the lines, the women would fall in at different places, not being willing that the men should have all the "fun." The procession arrived at the ground near Bull's Pond, about a mile from the town, at 11 o'clock, where some time was consumed in arranging everything preparatory to the commencement of the speaking."
Excerpt from the Semi-Weekly Floridian, May 21, 1867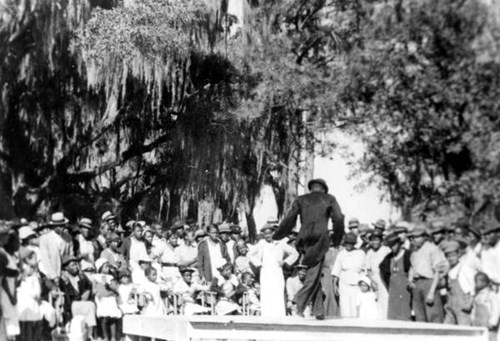 African American workers and tenants celebrating Emancipation Day (May 20th)
at Horseshoe Plantation, ca. 1930. Image Courtesy of State Library and Archives of Florida

Sponsored in part by the State of Florida through the Florida Department of State, Division of Cultural Affairs, and the Florida Council on Arts and Culture