Civil Rights in the Sunshine State
Civil Rights in the Sunshine State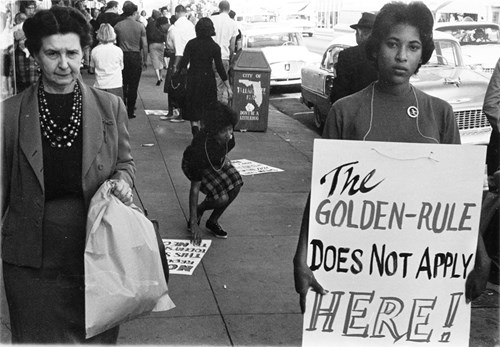 This exhibit explores the struggle of African Americans for equality in Florida from the end of Reconstruction (1877) through the 1970s. It examines the deep history of black activism in the state and reveals the multi-generational effort of men and women whose courage and sacrifice ended centuries of institutionalized racism. Florida's often-overlooked role in the national movement is also highlighted.
The Museum of Florida History worked with institutions and experts from across the state to produce this rich, important and engaging exhibit. Bring this exhibit to your community and expand the conversation about equality and justice in the Sunshine State.
Click here for more information.
Exhibit Specifications
General Description
113 text, graphic & photo panels, a "Lift Every Voice and Sing" CD, three DVDs of civil rights footage, two sets of oral histories for iPad, and title and section banners.
Space Required: 270 to 320 linear feet
Security Requirements: Moderate
Four Shipping crates: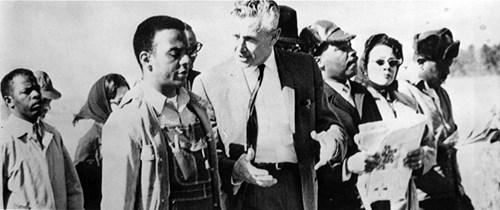 #1 @ 79"l  x 34"w  x 51"h     814 lbs.
#2 @ 65"l  x 35"w  x 53"h      627 lbs.
#3 @ 65"l  x 35"w  x 53"h      624 lbs.
#4 @ 64"l  x 25"w  x 77"h     715 lbs.
Total Shipping Weight: 2780 lbs.
Security Requirements:Moderate
Exhibit Rental Fee: $1,000 for 3 months
TREX Program
Museum of Florida History
500 S. Bronough St.
Tallahassee, FL 32399-0250
tel 850.245.6400 fax 850.245.6433
Images: 
Civil Rights protesters in Tallahassee, FL in 1960. (Florida Memory)

LeRoy Collins talking with civil rights marchers (L-R) John Lewis, Andrew Young, Dr. Rev. Martin Luther King, Jr., Coretta Scott King and Ralph Abernathy at Selma in March 1965. 

(Florida Memory)