Play it Again, Charlie
Research on the Knott family record collection by Stephen Thompson
The Knott family made a considerable personal and financial investment in music. Along with her other interests, Mrs. Knott played the piano and composed. We also know she encouraged her children to play since there are stacks of music books intended for young people. They were also early adopters of recorded music.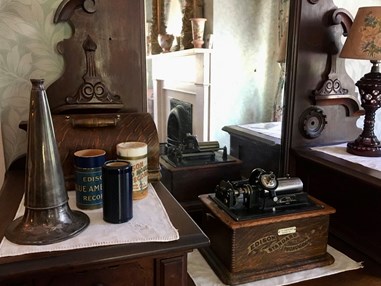 Cylinder players were the earliest sources of prerecorded music.  A cylinder player with a lovely hand painted sound horn survives at the Knott house. It is from the early twentieth century or maybe earlier. There are also the cylinders it played. Compared to a person at a piano, these were inferior in every way. The sound quality was poor, they could only play for a couple minutes at a time, and the cylinders were made of wax and wore out quickly.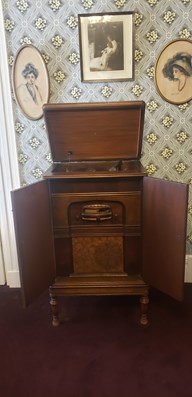 These early drawbacks didn't deter the Knotts from adopting the Victrola record player as soon as it became available. A Victrola also required winding, the needle had to be replaced with each playing and then you only got to hear a three minute song. Nonetheless there are records in their collection from as early as 1911. Among the oldest we find classical performances of both instrumental and vocal music, Christmas music, and unexpectedly a selection of Hawaiian music. This provides a clue to their motivation. Recorded music dramatically enlarged their listening world. No longer were they restricted to what they could play themselves. A wider world of performance could be brought to them. This didn't mean they found playing music themselves any less interesting.  Several of the Hawaiian records have corresponding sheet music for piano in the Knott's sheet music collection. It's fun to think of Luella Knott at the piano playing a record over and over to get the Hawaiian rhythms just right.
Starting in 1920, we find dance music. From this time until the end of the 78 RPM era, foxtrots dominated the Knott's record collection, which contained at least one hundred and fifty records. In 1930, the wind-up Victrola was replaced by a Radiola; a technical wonder that plugged into an electrical outlet. Not only could it could play records; it could also tune in radio stations from around the country. You could even adjust the volume. The earliest evidence of radio at the Knott house is a Stromberg-Carlson receiver from the 1920s.  This miraculous contraption required the manipulation of three dials in unison to select a station. This made listening to the radio more like tuning a stringed instrument than using a household appliance. The Radiola changed all that. The Knott's Radiola can be seen today in the study. A close look reveals that to tune it you didn't turn a knob or press a button.  You moved a slider back and forth to select a station. It was only a matter of time until live dance music from far away ballrooms began to replace the record player. After 1930 the Knott's record collection grew much more slowly.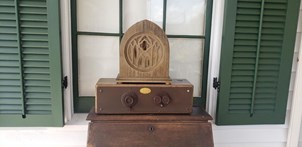 The Knott's listening experience was not unlike ours. They spent the first half of the twentieth century chasing technologies and recording formats. By 1950, the 78 RPM record and the AM radio were nearing retirement to be replaced by high fidelity stereo albums and FM radio. There is scant evidence of either of these at 301 East Park Avenue.
Click on the entries below to learn about and here some examples of  the various records found in the Knott's collection
(Images: Edison Standard Phonograph Model A, 1901, RCA Radiola in Family Room/Study, East porch radio; Knott House Museum Collection, Photography by Brennan Jammer)