Florida's History Shops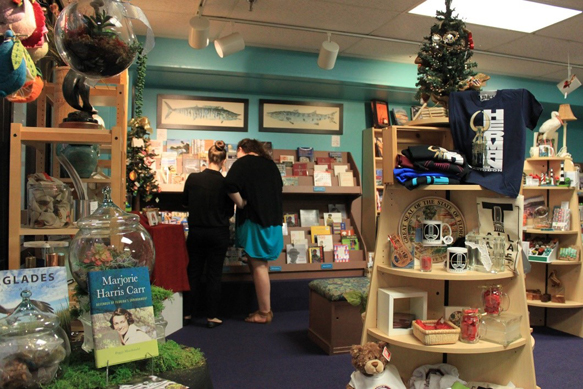 History Shops at the Main Gallery, Florida Historic Capitol Museum, and State Capitol provide ideal opportunities to purchase gifts for friends or mementos of your Florida vacation. Specializing in items related to Florida history and nature, the shops offer an outstanding selection of books, cards and posters, artwork and crafts, apparel, toys and games, and other souvenirs in all price ranges. They also feature merchandise relating to special exhibits and events. Many products, including those with the State Seal of Florida, are not sold elsewhere. Mail orders and major credit cards are accepted.
Currently the Museum is seeking a new operator for the café. Please call the Museum for information about nearby places to eat.


One Membership - MANY BENEFITS!
When you join the Museums of Florida History you will receive membership to the Museum of Florida History and the Knott House Museum, both located in Tallahassee. Each site offers a unique glimpse into Florida's rich history, culture, and her people.
MEMBERS enjoy the opportunity to participate in many exciting events, programs, tours, classes, performances and much more. In addition, your membership provides essential funding to each Museum site so it may continue to expand its collections as well as provide educational and outreach programs.



Benefits and Privileges include:
Quarterly Membership Newsletter
10% discount on purchases from the gift shops at the Museum of Florida History, the New Capitol, and the Old Capitol.
Invitations to special "members-only" shopping events and sales.
Invitations to special events and programs designed specifically for members.
Invitations to special exhibit openings, fundraisers, educational programs and special events.
Name recognition and acknowledgement of support in our publications.
Tax-deductibility for a portion of your membership fee.
Annual Membership Package
Individual
Family**
Senior*
Senior Family**
Teacher
Teacher Family**
Student
Donor Member
Patron Member
Benefactor Member
Price
$35
$60
$25
$50
$25
$50
$15
$100
$300
$500
Membership benefits extend one year from the date of joining and are issued in the individual's name (non-transferable).
A notice of renewal will be sent 30 days prior to anniversary date to ensure publications are received without interruption.
*A Senior is considered as anyone age 62 and up.
**A Family includes two adults and their children under 18 years of age.