Exploring Florida Activity Book
Exploring Florida Activity Book
An Activity Book Featuring Artwork by Christopher M. Still
About the Artwork
In 1999, the Florida House of Representatives commissioned artist Christopher M. Still to create eight murals to hang in its Capitol chambers in Tallahassee. Meticulously researched, each oil-on-linen, 48- by 126-inch painting explores a different era in state history from prehistoric times to the present. Historical background and symbols related to each painting are described at www.christopherstill.com/fl-house-of-reps.
About the Artist
A native Floridian, Christopher M. Still (1961–) studied at the Pennsylvania Academy of Fine Arts and apprenticed in traditional art techniques in Florence, Italy. His artworks have earned more than a dozen awards and honors, been featured in two dozen exhibitions, and currently hang in museums and collections throughout Florida and the U.S.
Created and produced by the 
Museum of Florida History,
Florida Department of State, Division of Cultural Affairs.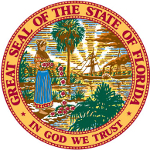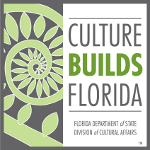 500 South Bronough Street, Tallahassee, Florida 32399–0250
For information or copies:
850-245-6400 ● [email protected]
To download a free copy: Exploring Florida Activity Book


Introduction
In April 2013, Florida commemorated the 500th anniversary of the first known landing of Europeans on its soil. The expedition led by Juan Ponce de León in 1513, followed by other Spanish and French explorers and colonists, encountered diverse and well-developed groups of native inhabitants, whose predecessors had occupied the peninsula for at least 10,000 years.
Florida's human and natural landscapes have changed dramatically in the last five centuries. Viva Florida 500 was a statewide initiative to mark the onset of these changes and also celebrate the vibrant and dynamic cultural legacy that has resulted. To help young people visualize and appreciate Florida's growth over time, this booklet features eight paintings by artist Christopher M. Still and related activities that explore different eras in state history.
High Points in Florida History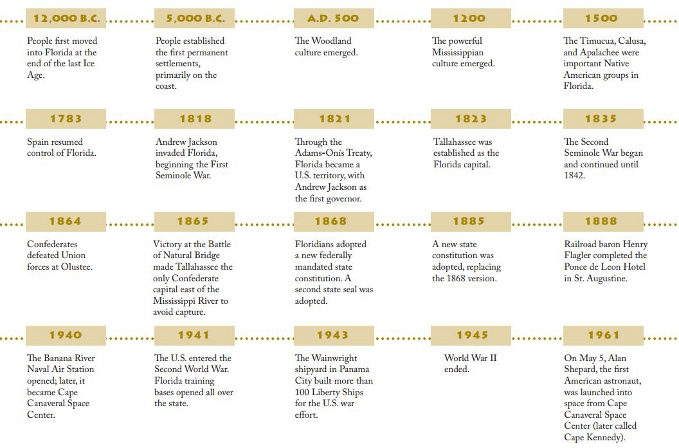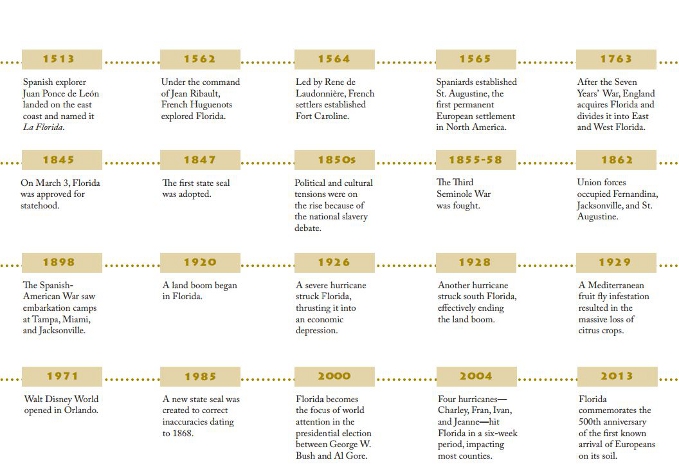 A Note for Educators
A selection of Next Generation Sunshine State Standards benchmarks for fourth- and fifth-grade social studies and art are presented below. The content of this booklet can be aligned with benchmarks in other subjects, and activities can be adapted easily for younger and older youths.
Social Studies
SS.4.A.1.1
Analyze primary and secondary resources to identify significant individuals and events throughout Florida history.
SS.4.A.3.1
Identify explorers who came to Florida and the motivations for their expeditions.
SS.4.A.3.2
Describe causes and effects of European colonization on the Native American tribes of Florida.
SS.4.A.3.3
Identify the significance of St. Augustine as the oldest permanent European settlement in the United States.
SS.4.A.3.7
Identify nations (Spain, France, England) that controlled Florida before it became a United States territory.
SS.4.A.3.8
Explain how the Seminole tribe formed and the purpose for their migration.
SS.4.A.4.2
Describe pioneer life in Florida.
SS.4.A.5.1
Describe Florida's involvement . . . in the Civil War.
SS.4.A.7.1
Describe the causes and effects of the 1920s Florida land boom and bust.
SS.4.A.7.3
Identify Florida's role in World War II.
SS.5.A.1.1
Use primary and secondary sources to understand history.
SS.5.A.1.2
Utilize timelines to identify and discuss American history time periods.
SS.5.A.5.1
Identify and explain significant events leading up to the American Revolution.
SS.5.A.5.2
Identify significant individuals and groups who played a role in the American Revolution.
Visual Arts
VA.4.H.1.1
Identify historical and cultural influences that have inspired artists to produce works of art.
VA.4.H.1.3
Describe artworks that honor and are reflective of particular individuals, groups, events, and/or cultures.
VA.5.H.1.1
Examine historical and cultural influences that inspire artists and their work.
VA.5.C.1.2
Use prior knowledge and observation skills to reflect on, analyze, and interpret exemplary works of art.