Trade Pirating Privateering
Trade, Pirating, and Privateering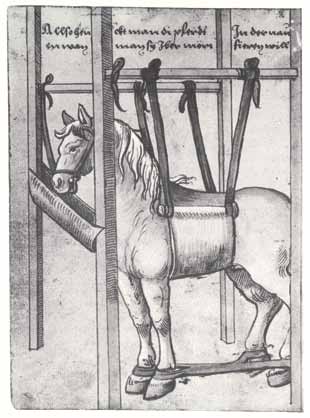 Horse from Christoph Weiditz's Das Trachtenbuch
From the 1500s to the 1700s, a three-way race for dominance existed in the New World. Spanish treasure fleets were attractive targets for English privateers. During the reign of Queen Elizabeth I, England had an unofficial policy of attacking the Spanish shipping as a way of weakening them. In addition, individual pirates who only sought personal gain attacked fleets indiscriminately, without regard to the nationality of the ships. Although Spain forbade her colonies from trading with other countries, her colonies were not always well supplied. Pensacola traded with the French colony of Mobile, and St. Augustine traded silver, gold, and Florida oranges with the British and the Americans. This trade was illicit but profitable for all parties involved.
Gallagher, Jim. Sir Francis Drake and the Foundation of a World Empire. Philadelphia: Chelsea House Publishers, 2001.
Print; 63 pages; nonfiction; ages 8 to 12
Currently out of print but owned by many Florida libraries
This book is a biographical sketch of Sir Francis Drake with details of his early life, his exploits in the New World, his geographical studies, and the role he played in England's war against Spain. It includes a glossary, index, chronology of his life, and suggestions for further reading.
Harman, Joyce E. Trade and Privateering in Spanish Florida, 1732–1763. St. Augustine, Fla.: St. Augustine Historical Society, 1969.
Print; 99 pages; nonfiction; ages 14 and up
This is a detailed analysis of the often-clandestine trade between Spanish Florida and the English colonies during the mid-18th century, including the role of privateers in supplying St. Augustine and economically benefiting both the Spanish and the English. It is a scholarly book that is suited as a source for a high school research paper.
Konstam, Angus. The Great Expedition: Sir Francis Drake on the Spanish Main, 1585–86. Oxford: Osprey Pub, 2011.
Print; 80 pages; nonfiction; ages 10 and up
This book is a well-researched and detailed description of Sir Francis Drake's 1585–86 expedition to inflict damage on Spanish trade ships and the Spanish economy before its attack on England. It contains illustrations and maps showing Drake's maneuvers at Santiago, Santo Domingo, and Cartagena.
McCarthy, Kevin. Twenty Florida Pirates. Sarasota, Fla.: Pineapple Press, 1994.
Print; 96 pages; nonfiction; ages 10 and up
This book details the life and exploits of twenty different Florida pirates beginning with the 1500s and attacks on Spanish St. Augustine to the present-day drug smugglers. The book has beautiful fullpage illustrations by painter William L. Trotter.
Meltzer, Milton, and Bruce Waldman. Piracy & Plunder: A Murderous Business. New York: Dutton Children's Books, 2001.
Print; 86 pages; nonfiction; ages 11 and up
Currently out of print but owned by many Florida libraries
This well-researched, illustrated book presents a realistic view of pirates and their criminal activities from antiquity to the present. It includes several portraits of famous pirates such as Blackbeard and Captain Kidd. Some descriptions of pirate activity are graphic and may not be suitable for some children.
Nick, Charles. Sir Francis Drake: Slave Trader and Pirate. New York: Franklin Watts, 2009.
Print; 128 pages; nonfiction; ages 9 to 15
This easy-to-read book tries to present an even-handed view of Sir Francis Drake. It covers his major accomplishments, such as his defeat of the Spanish Armada and his circumnavigation of the world, but it also discusses the darker side of his career as a pirate and slave trader.
Stewart, David, David Antram, and David Salariya. You Wouldn't Want to Explore with Sir Francis Drake!: A Pirate You'd Rather Not Know. New York: Franklin Watts, 2005.
Print; 32 pages; nonfiction; ages 7 and up
This illustrated book tells what it was like to sail with Sir Francis Drake. The reader is placed in the role of the young chaplain, Francis Fletcher. This book conveys history with a sense of humor and excitement. It also provides expert tips along the way, such as what to do about scurvy or acne while at sea.