Navigation
Ship pilots of the 1500s had few tools to help them navigate unfamiliar waters. Pilots had to be familiar with astronomy, maps, math, physics, and seamanship to direct the ship successfully. Shifting winds and currents, and sometimes hurricanes, made navigation difficult.
Cornejo, Andrés, and José Zarza. The Book of Navigation. Madrid, Spain: ANAYA, Expo 92, 1992.
Print; 92 pages; Nonfiction; ages 10 and up
Also in French, German, Italian, and Spanish
Currently out of print but owned by many Florida libraries
This book presents a history of navigation through time and across cultures. It discusses peoples' motivations for exploration and the technologies that allowed them to cross new boundaries. The book has many quality illustrations.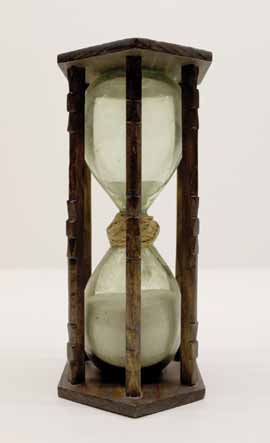 The Hourglass
A sand clock, or hourglass, was used to measure time, set and change watches, and estimate speed. (Courtesy of the Museum of Florida History)
Dickinson, Rachel. Tools of Navigation: A Kid's Guide to the History and Science of Finding Your Way. White River Junction, Vt.: Nomad Press, 2005.
Print; 156 pages; nonfiction; ages 8 and up
This excellent, well-illustrated book covers the history of exploration and navigation, including famous explorers and expeditions, and explains the technology used. It takes a hands-on approach to navigation and includes activities and experiments for children, such as making a compass and working with maps.
Ganeri, Anita. The Story of Maps and Navigation. New York: Oxford University Press, 1997.
Print; 30 pages; nonfiction; ages 7 to 12
Currently out of print but owned by many Florida libraries
This well-illustrated book is a good introduction for young children to the history and development of maps and navigational instruments from antiquity to the present day.
Launer, Donald. Navigation Through the Ages. Dobbs Ferry, N.Y.: Sheridan House, 2009.
Print; 192 pages; nonfiction; ages 12 and up
This book, written by a captain with years of sailing experience, is a detailed account of navigation from its earliest origins to the present. Filled with examples and illustrations, this is an excellent resource for a high school student who is writing a report about navigation.
Smith, A. G. Where Am I?: The Story of Maps and Navigation. Toronto: Stoddart Kids, 1997.
Print; 89 pages; nonfiction; ages 9 and up
This is a richly illustrated book that takes young readers through the history of maps and navigation. It includes explanations of early maps, biographies of mapmakers, and detailed information about mapmaking and navigational tools.