Maps and Mapmaking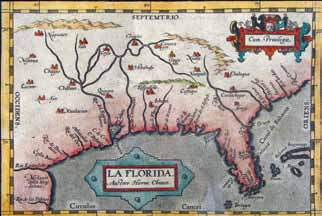 Map ca. 1565 (Image from a 1602 or 1612 reprint, Courtesy of the Museum of Florida History)
After the fall of Constantinople and the advent of the printing press, Ptolemy's world map, created before A.D. 200, was widely distributed in the 1400s and gave resurgence to the art and science of mapmaking. With the New World discoveries by Columbus and others, newer maps recorded the history of these explorations.
Breakthroughs in navigation, ship building, astronomy, and other technologies made maps more accurate. Although there were still unexplored areas, which were filled in with mapmakers' fanciful and elaborate designs, maps from the Age of Discovery are collectable for their artistic and historical value.
Cooke, Tim. Maps and Navigation. New York: Gareth Steven Publishing, 2010.
Print; 48 pages; nonfiction; ages 9 to 13
This book teaches basic map skills and navigation and covers the history of navigation through time, beginning with astrolabes and sextants to modern GPS systems and radar. It contains several activities, a glossary, an index for further reading, and online resources. It is a great resource for studying the Age of Exploration and applied map, math, and geometry skills.
Johnson, Sylvia A. Mapping the World. New York: Atheneum Books, 1999.
New York: Atheneum Books, 1999.
Currently out of print but owned by many Florida libraries
This illustrated book is a brief history of maps and mapmaking, from the oldest Babylonian world map to satellite-based maps of the Earth. The maps it contains would make a fantastic addition to a class presentation by a teacher or student.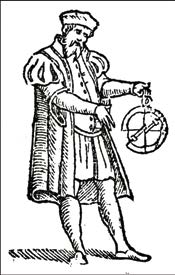 European Mariner with Astrolabe (From Regimiento de navegacion, Pedro de Medina, Seville, 1563)
Panchyk, Richard. Charting the World: Geography and Maps from Cave Paintings to GPS with 21 Activities. Chicago: Chicago Review Press, 2011.
Print; 132 pages; nonfiction; ages 10 to 14
Also available in eBook format
This wonderfully illustrated book is a detailed introduction of the history of mapmaking, from its earliest beginnings in Ancient Greece to the present, and discusses how technology has affected our understanding of the world. It includes maps and diagrams and has twenty-one hands-on activities that immerse students into the study of mapmaking and geography.
Whitfield, Peter. The Charting of the Oceans: Ten Centuries of Maritime Maps. Rohnert Park, Calif.: Pomegranate Artbooks, 1996.
Print; 136 pages; nonfiction; ages 14 and up
Currently out of print but owned by many Florida libraries
A brief introduction of the earliest types of navigation is followed by a discussion of the history of sea maps. The beautiful pictures of primary source maps range from the earliest surviving sea map from the late 13th century through the Age of Discovery and up to the more modern satellite imaging.
Wigal, Donald. Historic Maritime Maps Used for Historic Exploration, 1290–1699. New York: Parkstone Press, 2000.
Print; 264 pages; nonfiction; ages 10 and up
Currently out of print but owned by many Florida libraries
This beautifully illustrated book sets out to place early maps in the context of the time and place in which they were created and used. The only word of caution is that the author claims on page 76 that Ponce de León was motivated to find Bimini (La Florida) because of the Fountain of Youth, which currently is not the accepted view.
Young, Karen R. Small Worlds: Maps and Mapmaking. New York: Scholastic, 2002.
Print; 128 pages; nonfiction; ages 9 to 14
Currently out of print but owned by many Florida libraries
This book covers more than just geographical maps; it also includes maps of brain scans, the Universe, weather patterns, and imaginary places. Insets include biographical information about and interviews with mapmakers. It includes a list of books and websites for further research.