Europeans Explore Americas
Europeans Explore The Americas
Conquistadors
Conquistadors were Spanish and Portuguese soldiers-explorers who came to the Americas in the 15th and 16th centuries. Many sought riches in the New World because they were not the first-born son and thus would not inherit their family's wealth. The quest for gold and silver and the lure of adventure prompted these men to lead expeditions to explore or settle new areas. The conquistadors who came to Florida already had participated in conquests in other areas of the Americas. Sometimes, their interactions with native populations were hostile or brutal.
Pohl, John M. D., and Adam Hook. The Conquistador, 1492–1550. Oxford: Osprey Publishing, 2001.
Print; 64 pages; nonfiction; ages 12 and up
Details about the armor, weaponry, and tactics of Spanish soldiers who came to the New World are described in this book. The long paragraphs and scholarly writing are geared for young adults with a keen interest in the subject or seeking information for a report. The beautiful illustrations may be useful with a younger audience..
Boyd, Bentley. Exploring the Americas. Williamsburg, Va.: Chester Comix, 2003.
Print; 24 pages; fiction; ages 7 and up
This is a graphic novel.
This graphic novel follows a timeline from Christopher Columbus to the Spanish in Florida. The book consists of chapters with a question at the top of each page; the answers tell the story of exploration and settlement in North America. This format encourages reluctant readers to read and comprehend
Clark, Larry R. Spanish Attempts to Colonize Southeast North America, 1513–1587. Jefferson, N.C.: McFarland & Company, 2010
Print; 207 pages; nonfiction; ages 14 and up
This scholarly book contains information about Spanish efforts to colonize La Florida as far north as the Carolinas. The author discusses well-known explorers such as Ponce de León, Pánfilo de Narváez, Hernando de Soto, Tristán de Luna, and Juan Pardo.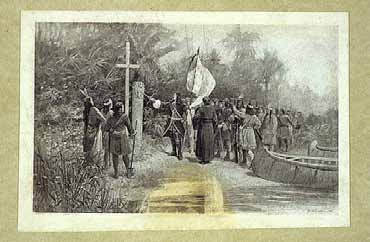 European explorers arriving in the New World (Courtesy of the Library of Congress)
Milanich, Jerald T., and Susan Milbrath. First Encounters: Spanish Explorations in the Caribbean and the United States, 1492–1570. Gainesville: University of Florida Press, 1989.
Print; 222 pages; nonfiction; ages 12 and up
This collection of essays by historians and anthropologists, written in a readable format with limited use of arcane terms, is suitable for advanced middle and high school students. The book focuses on major expeditions of the early colonial era, especially in Florida, and the associated conditions, influences, and interactions.
Rossi, Ann. Cultures Collide: Native American and Europeans, 1492–1700. Washington, D.C.: National Geographic, 2004
Print; 40 pages; nonfiction; ages 9 and up
Currently out of print but owned by many Florida libraries
This book explains how contact and the exchange of plants, animals, and world views between Native Americans and Europeans dramatically changed both cultures. For example, it describes Navajo and Plains Indian cultures before and after the introduction of horses, the effects of European diseases, and the conflict over ideas about land ownership
Weber, David J. The Spanish Frontier in North America. New Haven: Yale University Press, 1992.
Print; 579 pages; nonfiction; ages 14 and up
Available in Spanish
Awards: nearly ten outstanding recognitions
This scholarly book covers the history of the Spanish empire in what is now the southern half of the United States from Florida to California. The author avoids bias as he discusses the Spaniards' interactions with the native populations. The book also covers the topic of North America's lasting Spanish heritage. This is a good source for a high school level research paper.
The Spanish Frontier in North America: The Brief Edition. New Haven: Yale University Press, 2009.
Print; 298 pages; nonfiction; ages 12 and up
This is an abbreviated version of the author's larger book that is listed above.
Bartolomé de las Casas
Dominican friar Bartolomé de las Casas was an advocate for enslaved Native Americans, and he publicly criticized their poor treatment at the hands of Spaniards. His activism and writings led to a 1542 decree called the New Laws, which outlawed the abuse and enslavement of the Indians.
Sullivan, Francis. Indian Freedom: The Cause of Bartolomé de Las Casas, 1484–1566: A Reader. Kansas City, Mo.: Sheed & Ward, 1995.
Print; 371 pages; nonfiction; ages 15 and up
(This is a compilation of the author's well-researched and cited interpretations and translations of Bartolomé de las Casas's writings.) Through translations of las Casas's writings, this scholarly book details the atrocities visited on the Native Americans at the hands of Spaniards and his fight for the freedom of the native peoples.