World War II and Beyond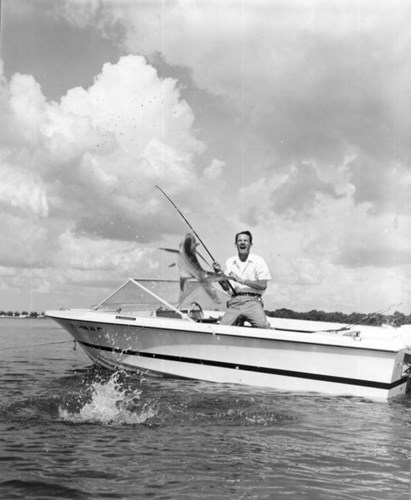 Reeling in a tarpon at Marco Island, southwest Florida, 1966
Courtesy of the State Archives of Florida
World War II
World War II deeply affected the sport fishing industry in Florida. Wartime brought fuel rationing and restrictions on travel in coastal zones. A number of charter boat captains joined the Coast Guard or other military branches. The military commandeered many of the larger sport boats and used them to search for enemy submarines off the Florida coasts. However, since fresh beef was rationed, fishing from party boats was permitted to continue, with restrictions, in an effort to provide more seafood. As it became more difficult to engage in off-shore fishing, surf fishing and pier fishing grew in popularity.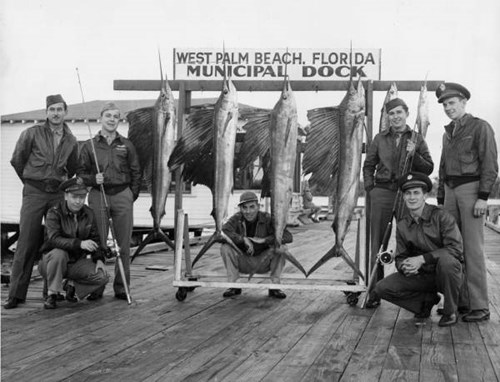 Military aviators with their catch, West Palm Beach, Florida, ca. 1940s
Thousands of military personnel trained in Florida during World War II. Some enjoyed fishing during their time off duty.
Courtesy of the State Archives of Florida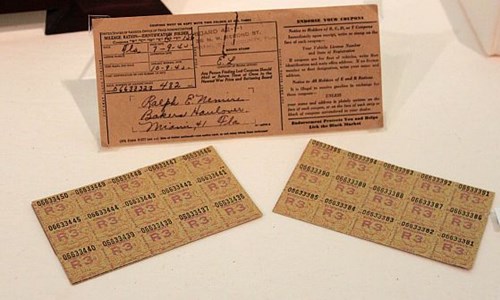 World War II fuel ration stamps for fuel for charter boat belonging to Captain Ralph Nemire, of Baker's Haulover
The Lure of Florida Fishing exhibit, 2014
In the collections of the Museum of Florida History
After the War
After the war, charter boat captains returned from military service and resumed their old careers. New tournaments arose and older competitions were revived. In the decades following the war, Florida's population grew dramatically as many service personnel who had trained in the state returned to settle. The increase in population helped fuel a rise in the popularity of sport fishing.
Advancements in boats, motors, engines, and fishing gear came yearly. Many new companies were producing fishing equipment and driving down prices. Boat builders turned to fiberglass to make boats. Fiberglass boats were cheaper and easier to build than wooden boats, and the lighter hulls allowed for smaller engines. Deep sea fishing was becoming affordable to the average angler. 
By the 1950s, more than 1,500,000 anglers were fishing around Florida every year, off-shore, inshore, along the coasts, and in freshwater areas. By the late 1960s, recreational fishing brought about $300 million to the state yearly, and almost half of vacationers to Florida came, in part, to fish. The sport fishing industry had rebounded.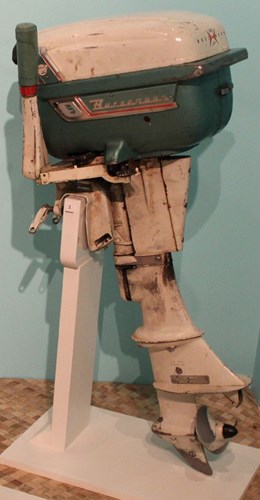 Gale Buccaneer outboard motor, ca. 1959–70
The Lure of Florida Fishing exhibit, 2014
In the collections of the Museum of Florida History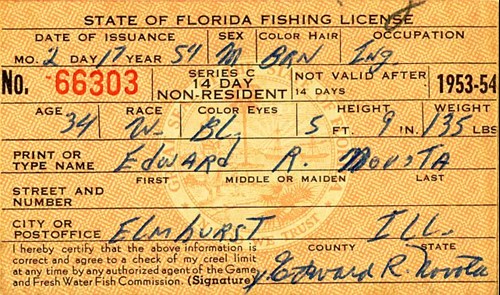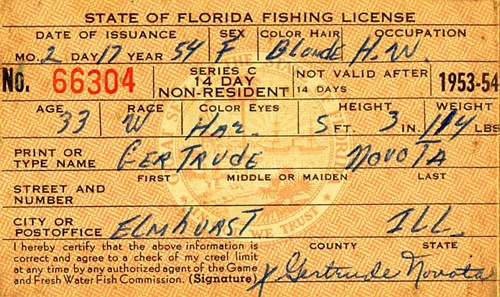 Fishing licenses for Edward and Gertrude Novota, 1954
Edward and Gertrude Novota were residents of Illinois. Mr. Novota served in the Air Force and was stationed in Florida in World War II. He often fished lakes in Winter Haven, Lake Wales, and other area lakes. After the war, the Novota family traveled frequently to Florida to fish. They settled permanently in Winter Haven in 1983, near Lake Winterset, Mr. Novota's favorite fishing spot.
In the collections of the Museum of Florida History
Angling Celebrities
Big-game fishing attracted celebrities, including movie stars, musicians, and politicians. Some celebrities, famed for their skills as authors or athletes, also became known as world-class anglers. The books they wrote and their promotional efforts helped popularize sport fishing.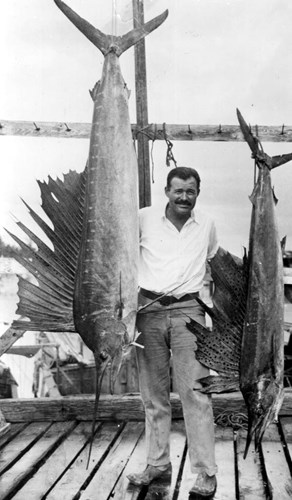 Ernest Hemingway (1898–1961)
Author Ernest Hemingway's earliest foray into Florida fishing took place in 1928 on his first trip to Key West. Hemingway enjoyed the island so much that he decided to make a home there. From Key West, he traveled to Cuban waters, the Dry Tortugas, and surrounding area to fish. His customized yacht was one of the first boats to feature a flying bridge. From the bridge, Hemingway could scan the seas for a great distance, searching for tuna. In his book Islands in the Stream, he wrote about Bimini. The book helped promote fishing in Bimini and Florida.
Courtesy of the State Archives of Florida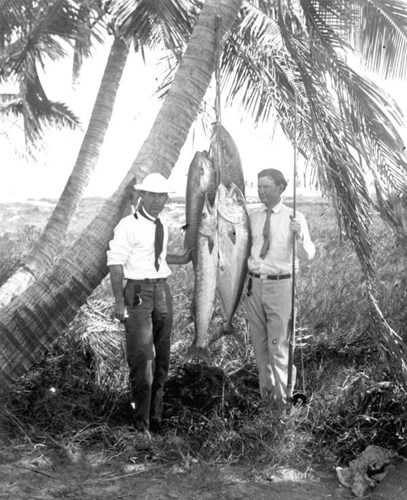 Zane Grey (on left) (1872–1939)
Zane Grey wrote many highly successful westerns and a number of books about his fishing adventures. Grey often visited the Long Key Fishing Camp and served as the first president of the Long Key Fishing Club. He studied the migration patterns of game fish to better locate them and to learn what they ate. Grey condemned the practice of catching and killing fish that would not be mounted or consumed. 
Courtesy of the State Archives of Florida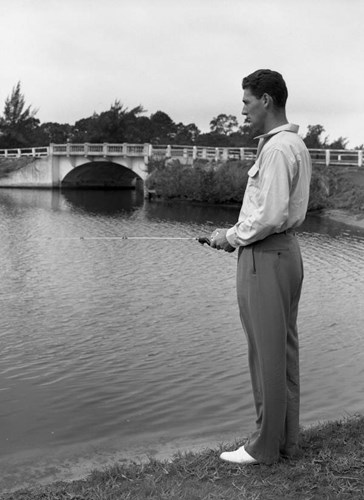 Ted Williams (1918–2002)
Baseball player Ted Williams was recognized for his saltwater and freshwater angling skills. He learned fly tying, casting techniques, and studied the behaviors of fish. After he retired from baseball, he spent much of each year in south Florida, fly fishing in pursuit of tarpon and bonefish. He released most of the fish he caught. Williams co-owned a fishing tackle company in Miami and later lent his name to a line of fishing gear sold by Sears.
Courtesy of the State Archives of Florida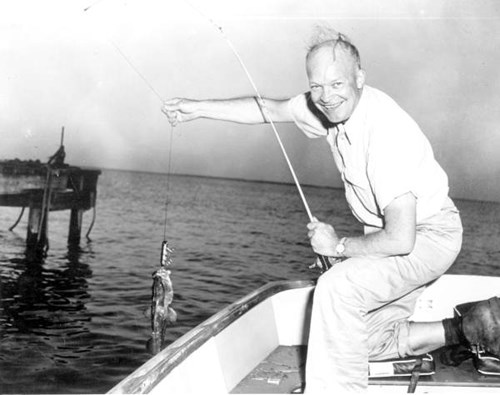 \
General Dwight D. Eisenhower with grouper, 1946
General Eisenhower later became U.S. president, serving from 1953 to 1961.
Courtesy of the State Archives of Florida