Sports Fishing Today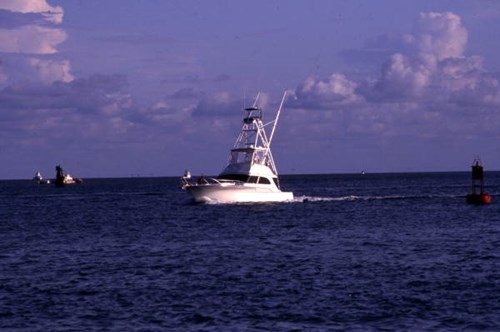 Charter boat in the Florida Keys, 1991
Courtesy of the State Archives of Florida
Preserving Fishing for Future Generations
Florida's fish habitats have faced numerous challenges. Population growth, construction projects, drainage of the Everglades, and other factors have all damaged fisheries. As the decline of fish populations became more noticeable, some anglers grew alarmed. Scientific projects to study different deep sea fish gathered much information on the fragile nature of fish habitats. From this arose new ideas about responsible fishing and conservation of marine environments. Several groups organized to help protect the fisheries, and many fishing clubs now support conservation efforts as part of their mission.
The Florida legislature enacted some conservation measures. Management programs were put in place to establish hatcheries and restock rivers and lakes with bass and other fish. In 1983, the legislature established the Marine Fisheries Commission to manage the state's saltwater fisheries. It later merged with the Game and Freshwater Fish Commission to form the Fish and Wildlife Conservation Commission.
Regulations to help prevent overfishing followed. Rules differ by species, but involve restricting the size of fish anglers are permitted to catch and keep, seasonal restrictions, and daily capture limits. A law banning gill nets used by commercial fishers and restricting other types of nets went into effect in 1995. Titled, "Limiting Marine Net Fishing," it was commonly called the net ban.
Many anglers now practice catch-and-release fishing for fish they do not plan to consume. A number of tournaments also have moved to catch-and-release. The West Palm Beach Fishing Club, one of the early clubs to acknowledge the need for conservation, offered a red release sailfish flag so that crews could show their catches for the day without bringing all of their fish to the dock. Many tournaments worldwide now follow this practice. These conservation practices help to preserve the sport of angling for future fishers.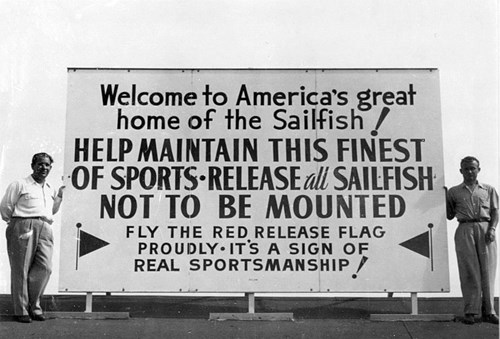 Promoting catch-and-release, ca. 1940–55
Courtesy of the West Palm Beach Fishing Club
Conclusion
In the late nineteenth century, the tarpon craze fueled Florida's reputation as a fishing paradise. The craze led to an increasing number of tourists drawn southward to partake of the state's fishing opportunities. Today, sport fishing remains a significant part of the state's tourism industry.
In 2011, more than three million anglers fished in Florida's lakes, rivers, and coastal waters. About one million anglers, some 260,000 of them non-resident, fished the state's freshwaters. More than two million people tried their hand at saltwater fishing, including about one million visitors, and many visited both fresh and saltwater areas. The Sunshine State remains one of the top fishing destinations in the country as visitors and locals continue to cast their rods in Florida waters to see what bites.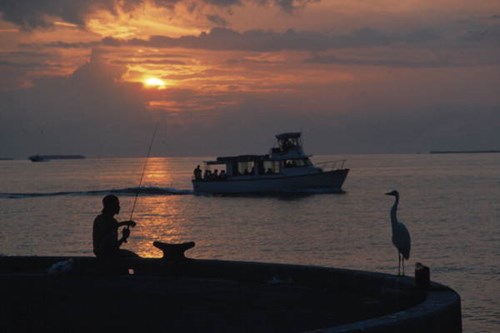 Key West, 1989
Courtesy of the State Archives of Florida