Women in Politics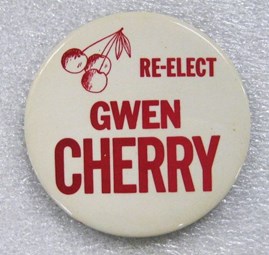 In the 1960s, more women began achieving state office. From 1920 to 1960, only five women had gained election to the Florida House of Representatives, and only one woman from Florida had served in the U.S. House of Representatives. No woman had reached the state or U.S. Senate. In 1962, Beth Johnson of Orlando became the first woman elected to the state Senate. The number of women in elective office slowly began to grow after reapportionment in 1963. Reapportionment added more seats to the legislature, which increased opportunities for women office-seekers.
On the federal level, in 1980, Florida elected Paula Hawkins as the state's first—and still only—woman U.S. senator. Florida sent its second woman U.S. representative, Ileana Ros-Lehtinen to Congress in 1989, six decades after Ruth Bryan Owen had served in that chamber.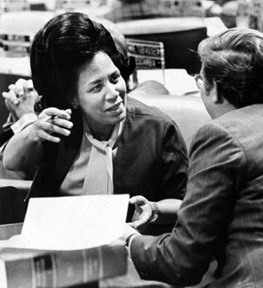 Gwendolyn Sawyer Cherry, 1972
Elected to the Florida House of Representatives in 1970, Gwen Cherry became the first
Black woman in the state legislature. She was a strong advocate for social justice and the rights
of women. Cherry served through the 1970s, but tragically died in a car accident in 1979.
(Courtesy of the State Archives of Florida)
Elaine Gordon, ca. 1970s
In 1972, Elaine Gordon won election to the Florida House of Representatives. She was
strongly devoted to women's rights. Gordon continually won re-election, becoming
Dean of the House—the longest-serving member—in 1993. She retired in 1994.
(Courtesy of the State Archives of Florida)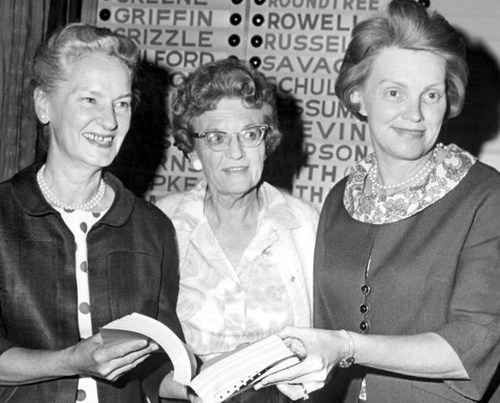 State Senator Beth Johnson (left), with State Representatives Maxine Baker (center) and Mary Grizzle (right), 1965
(Courtesy of the State Archives of Florida)
(Campaign material, ca. 1970s, Collection of the Museum of Florida History)