Florida on the Home Front: Scrap Metal Drives and Victory Gardens
Florida on the Home Front: Scrap Metal Drives and Victory Gardens
Scrap Metal Drives and Victory Gardens:
Faced with a shortage of metal at the beginning of the war, the U.S. government mounted and aggressive campaign to collect scrap steel, brass, aluminum, and other valuable metals. Songs such as "Junk Will Win the War" became popular as Floridians collected scrap items as diverse as lead toy soldiers, pots and pans, shovels, light fixtures, tin foil, tin cans, a steam engine, and even a World War I German artillery piece. By war's end, scrap drives had accounted for a large proportion of the steel, tin and other metals used in defense industries.
A national government effort also encouraged the planting of Victory Gardens to increase vegetable production for home consumption. Organizations like the Civilian Voluntary Services promoted this activity, which proved enormously popular, particularly in states like Florida with long growing seasons. Eventually, some 20 million Victory Gardens dotted the nation, producing forty percent of all wartime vegetables. The growing of Victory Gardens also increased civilian morale and contributed to a sense of participation in the war effort.
Children's Activities:
America's children played a contributing role in the nation's war effort. Youth groups like the Boy Scouts, Girl Scouts, 4-H Clubs, the Junior Red Cross, and the Junior Commandos mobilized American youth. Nationally, patriotic children purchased war stamps and bonds worth more than $1 billion. They took part in scrap drives, collecting metal and rubber, as well as stacks of old newspapers and magazines for recycling. As metal and rubber became scarce, children made do with wooden toys. They also built airplane models used to train military personnel in aircraft identification. War games became popular, and most children's books and comics were filled with war-related themes. For many children, World War II also was marked by periods of separation from fathers who were serving in the armed forces and mothers who worked long hours in war industries.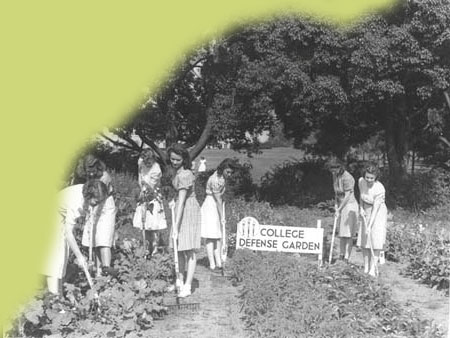 Students at Florida State College for Women in Tallahassee tending their Victory Garden
(Florida State Archives)