Now on View

---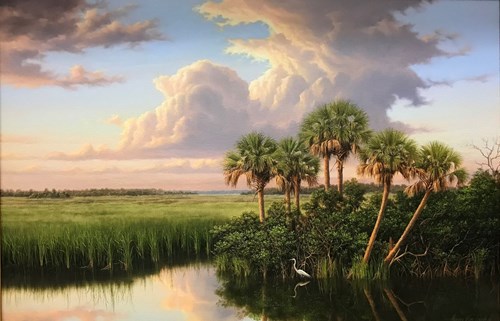 Henry Von Genk III, Drifting over the Glades, 1988
November 23, 2019-August 2, 2020
The Museum of Florida History is proud to introduce the Risner Fine Art Collection and its premier exhibit, Florida Inspired. The exhibition opens November 23, 2019, and features more than 125 landscape paintings by 98 different artists. These works of art capture Florida's vibrant natural beauty in a variety of styles and interpretations. This exhibition spans over a century and illustrates Florida's varied terrain, including springs, rivers, caves, wetlands, and forests, covering the entire state from the Panhandle to the Keys, Pensacola to Miami, and the Everglades to North Florida farmland.
In the mid-1990s, Ron Risner began collecting and commissioning these paintings to illustrate the diversity and beauty of the state. His love of Florida's environment is shared by the more than 100 artists represented in the Risner Fine Art Collection. Beginning in 2017, through a multi-year donation, Mr. Risner has given more than 160 paintings to the Museum of Florida History and the people of Florida.
Special programs are planned through the run of the exhibition, including painting classes, guest presenters on Florida art and environment, 2nd Saturday Family Programs, and History at High Noon lectures. Visit the
programs and events
page for more information.
Do not miss your chance to see this extraordinary collection in Florida Inspired—Landscapes from the Risner Fine Art Collection.
---