Furniture - Page 3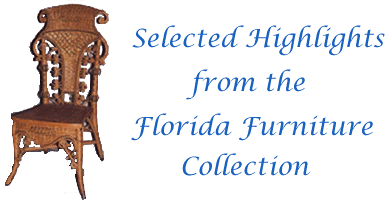 ---
17. Chair, Arm. Circa 1880–1915. Wood, cherry; cloth upholstery; metal springs [Colonial Revival style] Acc. No. 91M.19.10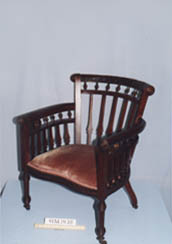 Description: Metal casters on all four legs. Front legs are round with turned elements. Square back legs. Serpentine seat rails with a type of dentil molding in the center as a decoration. Upholstered seat. Arm rests supported by six square (not turned) spindles, which in turn support a gallery with an "S" scroll on its side and four small turned spindles. The end of the armrest has a turned conical decoration which is also used at the ends of the crest rail. The back of the chair has five large square spindles supporting a gallery with seven small turned spindles. The crest rail has realistic relief carved decorative leaf motifs (ivy?) along its top. The upholstery is likely a replacement, circa 1940s. Clear finish on the wood has darkened with age and use.
Discussion: Although the design of this chair is original, it owes something to the Windsor chair of the American colonial period. At the Philadelphia Centennial of 1876, colonial items became popular, and since then Colonial Revival furniture design has been popular. At times the revival style imitated the real colonial styles very closely, but more often the elements of colonial style were freely, and often very imaginatively, adapted to modern usage (think of a Queen Anne style radio cabinet for example). This particular piece was owned by members of the Lewis family of bankers in Tallahassee near the beginning of the century. When the first owners sold their house, members of the Choate family in town then purchased the parlor suite that included this piece, and it remained in the family until its donation in 1991. Not currently on exhibit.
18. Desk of Florida Governor William S. Jennings. 1902. Wood, mahogany; cherry and birch secondary woods; metal, cast iron and nickel hardware [Vernacular with elements of Arts & Crafts/Mission style and Art Nouveau style] Acc. No. 91M.72.1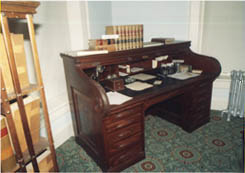 Description: "C" scroll type roll-top desk, twin pedestals, tambour top closure. Sides and back of desk have in-set panels with projecting molding around each panel and veneer panels inside frame. Front of desk has five drawers in each pedestal and a single central drawer. Pulls are wood with decorative Art Nouveau stylized vegetal motifs carved around their top and sides. Drawers are side-hung, and have machine-cut dovetails. Outside "C" scrolls have elaborate decorative concentric vegetal carving. Desk top has plain black imitation leather surface, probably added on top of original surface in 1979. Above writing surface is a low section of pigeon holes and book-sized slots. Brass lock on center drawer and center bottom of tambour. Large nickel-plated plaque was attached to the left inside of the desk in 1905 when the object was given to Florida Governor William S. Jennings.
Discussion: The desk was originally purchased by the legislature to furnish the newly expanded capitol in 1902. Governor William S. Jennings used the desk for most of his 1901 to 1904 term of office. Upon the inauguration of his successor, Napoleon B. Broward in January 1905, Jennings staff and friends acquired this desk (details are now missing on exactly what happened; a very similar desk, probably the same model, appears in later photographs of Governor Carey Hardee in the 1920s), placed the plaque, and gave him the desk. It passed down through the Jennings family until the governor's granddaughter generously loaned, then donated the desk to the Old Capitol, where it once again occupies its original place as the centerpiece of the restored Governor's Suite.
Bibliography
Clark, Robert J.

 

The Arts & Crafts Movement in America, 1876-1916.

 

Princeton, N.J.:

Princeton University Press, 1972.

Galbraith, Christine, and Barbara Miller.

 

Historical Documentary Research Project: 1902

Florida Capitol Restoration, First, Second, and Third Reports.

 

Tallahassee: Historic Tallahassee Preservation Board, 1979.
Table of Contents 
 
19. Cabinet, File. Circa 1890-1910. Wood, oak; ; metal hardware. [Arts & Crafts/Mission style] Acc. No. 91M.73.1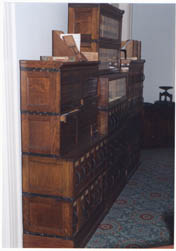 Description: Modular filing cases composed of four filing units, a top cap, and seven vertical pull-out drawers in each unit. Each unit and the top cap has a ½-inch wide metal band horizontally across it to strengthen the units when stacked. Several drawer fronts still have original filing labels attached, indicating they were used by state government. The base of this stack is a reproduction (1991) as are eight of the file drawer fronts. Medium dark finish to wood. Inscription on front of top cap reads: "Globe." 
Discussion: Difficult as it now is to imagine, state government used a lot less paper at the turn of the century than we do now. In fact, our entire culture, now overrun with photocopies, laserprints, and paper of all kinds, used relatively very little paper in 1900. These file cabinets would have been sufficient to keep the records of many offices at that time. The simplicity and plainness of the Mission style at the turn of the century appealed greatly to furniture makers who manufactured office supplies. They immediately adopted the style wholeheartedly and used those designs for most of the first fifty years of the century. This artifact is on exhibit in the Governor's Suite in the Old Capitol.
Bibliography
Cathers, David.

 

Furniture of the American Arts & Crafts Movement.

 

New York: New

American Library, 1981.

Marek, Don. Arts & Crafts Furniture Design: The Grand Rapids Contribution, 1895-1915.

Grand Rapids, Mich.: Grand Rapids Art Museum, 1987.

Trapp, Kenneth R.

 

The Arts & Crafts Movement in California: Living the Good Life.

 

New

York: Abbeville Press, 1993.
Table of Contents 
 
20. Revolving Bookcase, Wood, oak; metal hardware [Arts & Crafts/Mission style] Acc. No. 92M.26.1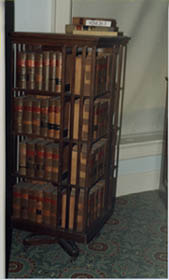 Description: Cage-like set of four shelves mounted on a central cylindrical core. Core sits on an "X" shaped base and legs. Sides have four vertical strips of wood each to hold books as with a bookend. Top overhangs. Decorative headed nails attach the vertical strips to the shelves. Legs are on casters. 
Discussion: The drawback to this design, of course, is that if you take a lot of books off one side of a full case, it will overbalance and come crashing down. This revolving bookcase came from the Florida Supreme Court, which may well have used it in the Old Capitol at the turn of the century, although records for this piece go back only as far as 1912. With the documented history of this piece in Florida government, the Museum of Florida History was pleased and honored that the Justices allowed it to be returned to the Old Capitol for exhibit in the Governor's Suite restoration, where it remains today.
Table of Contents 
 
21. Library Table. Circa 1906-20. Wood, oak and unidentified veneer and marquetry. [Arts & Crafts/Mission style] Acc. No. 82.40.00.093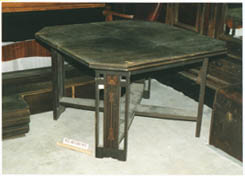 Description: Four flat board-shaped legs set at 45 degrees to the table top's edges and joined by an "X" stretcher. Legs have a complex design of solids and voids in marquetry using abstract geometric designs. Table top is octagonal and has a skirting around the four long sides. Most surfaces are veneered. This piece appears in the 1906 Shop of the Crafters catalogue, page 10, #355. Paper label glued to underside of table top reads: "Shop of the Crafters at Cincinnati / Oscar Onken Co. sole Owners" with the image of a candle lantern in the center.
Discussion: Florida Governor George Drew's son, Frank Drew, was an entrepreneur and railroad developer in the early 20th century. This table, a very fashionable piece, probably furnished his home library in Lake City. All the other pieces in the library matched this one in style and probably were bought as a suite. The Shop of the Crafters, although not nearly as well known today as Gustav Stickley and some other manufacturers of Mission style furniture, was well known at the turn of the century and may deserve more recognition for its original designs than the company has so far received.
Bibliography
Bowman, Leslie G. American Arts & Crafts: Virtue in Design, A Catalogue of the Palevsky

Collection and Related Works at the Los Angeles County Museum of Art.

 

Los Angeles: Los Angeles County Museum of Art, 1990. Contains information about the Shop of the Crafters, among other high-style furniture manufacturers.

Gray, Stephen, and Kenneth R. Trapp (eds.)

 

Arts & Crafts Furniture: Shop of the Crafters at

Cincinnati.

 

New York: Turn of the Century Editions, 1983. A reprint of the catalogue from which this piece was ordered.

Kaplan, Wendy. "The Art That Is Life:" The Arts & Crafts Movement in America,

1875-1920.

 

Boston: Museum of Fine Arts, 1987.
Table of Contents 
 
22. Sideboard. Circa 1875-90. Wood, walnut and walnut veneer; poplar secondary wood; metal, brass hardware [Renaissance Revival style] Acc. No. 82.40.00.076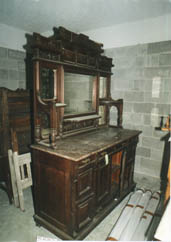 Description: Carcass is set on double wheel casters with applied moldings around bottom. Shallow drawer center bottom has two cast bail pulls. Above this are two large doors with wood escutcheons on proper right door and metal lock on left. Frame and panel construction. Flanking the center compartment are two compartments with doors, one on top of the other and on each side of the center. Above this are three side by side shallow drawers with matching pulls. Central drawer is lined with purple felt cloth for silver flatware storage. Top of carcass has veined red and white marble surface. Elaborate top half of piece features three mirrored panels flanked on each end by display shelves set on arches and columns. There is an elaborate crest above with arched and pillared gallery and incised and shaped wood panels. A clear, natural resin varnish over the entire piece has darkened with age.
Discussion: A fine example of the florid and elaborate Victorian style popular after the Civil War, this artifact once furnished the formal dining room of Florida Governor George Drew's mansion at Ellaville along the Suwannee River. Although the name Renaissance Revival might seem to refer to a form of calm classical design, this was an original Victorian style that really did not revive any historic style. While there were expensive and fashionable cabinet shops that custom designed and built furniture in this style, Governor Drew's sideboard was purchased from a factory and probably was designed by a now-anonymous shop foreman in imitation of the high-style pieces.
Bibliography
Ketchum, William C.

 

Furniture: Chests, Cupboards, Desks & Other Pieces (The Knopf

Collectors' Guides to American Antiques).

 

New York: Knopf, 1982. (See p. 301)
Table of Contents 
 
23. Chair. 1884. Cow horn; wood; cloth upholstery. [Exotic or Novelty furniture] Acc. No. 29995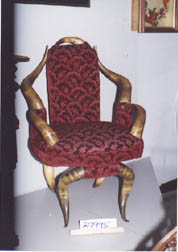 Description: Legs and arms use cow horn as a novelty material. Round seat and skirt are completely upholstered in dark reddish-purple plush, as is back. A cloth strip, now filed with the catalogue card but once attached to underside of chair reads: "F P Bush / Upholsterer Leominster / Mass / 1884" and "Georgetown / So. Ca." Currently on exhibit in the Collections Gallery of the Main Gallery. 
Discussion: Such intentionally unusual furniture was made in the western United States for the most part. Records indicate that Boston was, in a small way, an eastern center of this "rustic" type of furniture design. Elk antlers and untrimmed logs also were used during this same period to make novelty chairs.
Bibliography
Bishop, Robert C.

 

The American Chair: Three Centuries of Style.

 

New York: Dutton, 1972.

(See esp. pp. 412-13)

Butler, Joseph T.

 

Field Guide to American Antique Furniture.

 

New York: Henry Holt, 1986.

(See esp. p. 148)

Schwartz, Marvin D.

 

Furniture: Chairs, Tables, Sofas, and Beds (The Knopf Collectors'

Guides to American Antiques)

 

New York: Alfred A. Knopf, 1982. (See esp. p. 152)
Table of Contents 
 
24. Chair, Barber's. Circa 1880-1920. Wood, walnut; cloth upholstery; metal hardware [Vernacular style] Acc. No. 46482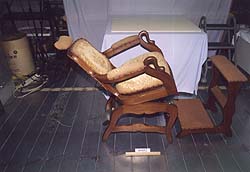 Description: This occupational chair has two separate parts, a reclining chair and a foot rest. All four legs of the chair have ogee curves and are connected by curved front-to-back stretchers. The center of the chair below the seat contains a cast iron mechanism, with teeth and a long foot pedal to manually recline the chair's seat and back and hold them in place. Arm supports each have a curved swan neck and beaked head. Wood arm rests have upholstered tops. Seat and back are similarly upholstered. Above crest is a separate head rest attached to the rear of the crest. The foot rest section has four feet with one low wide upholstered step. Stiles in front have a decorative slat and at top is an upholstered footrest. Inscription in metal assembly under seat: "E. Beringhaus / Manuf't'r / Cin'ti' O / Pride of the West" "Eugene Beringhaus / Maker Cincinnati O." Not currently on exhibit.
Discussion: The chair was donated in February 1930 from Eureka, Florida, but no information about its history was found in the files in 1997. This is unfortunate as the chair type was a very popular one in the late 20th century, and it could well have been used for a long period in Eureka or elsewhere in Florida. For museums, the history of an artifact, such as this barber chair, is every bit as important as the object itself.
Bibliography
Bishop, Robert C.

 

The American Chair: Three Centuries of Style.

 

New York: Dutton, 1972.

(See esp. pp. 368-69)
Table of Contents 
 
25. Chair, Photographer's. Circa 1880-1910. Wicker; wood; metal, brass [Vernacular style] Acc. No. 47480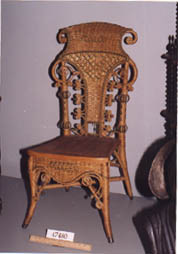 Description: Saber style front and back legs. Elaborate openwork around knees and seat rail. Close woven seat rail in front with blue-green decorative cane design woven on front of rattan skirt. Closely woven rattan seat in wood seat frame, reinforced by wood braces below seat. Stiles have decorative overlay of wood balls and cane. There is a center splat of wood and tightly woven rattan with decorative open work in a trumpet configuration. Top rail is an elaborate curving openwork and close woven head rest with matching decorative colored blue-green cane design woven over the top of the rattan. Paper label glued under the seat reads: "No. 6037a [numerals written by hand with a dip pen) Heywood Brothers and Wakefield Company / Gardner, Mass. USA."
Discussion: Fancy chairs of this type were standard props in most photographer's studios in the late 19th and early 20th centuries. This chair was donated in April 1930 by a world traveler and collector who wintered in Florida in the early 20th century.
Bibliography
Corbin, Patricia.

 

All About Wicker.

 

New York Dutton, 1978. (See esp. pp. 30-34)

Saunders, Richard.

 

The Official Price Guide to Wicker.

 

Orlando: House of Collectibles, 1985.

(See esp. pp. 58-131)

Thompson, Frances.

 

The Complete Wicker Book: The History of Wicker Furniture and

Accessories from Antique to Modern.

 

Des Moines: Wallace Homestead Books, 1978.
Table of Contents 
 
26. Chair, Arm. 1986. Wood, bent cypress; steel nails. Made by Robert James Rudd of Lake Worth, Florida [Folk/Vernacular style] No Acc. No., Folk Collection
Description: Artifact is made of roughly smoothed cypress logs. Four straight legs, one stretcher between each leg, front, back, and sides, with a vertical brace between stretcher and seat rail on each side and back, as well as two braces in front. Seat and back are continuous, made of seven thin branches that fan out in back. Frame of back is made of three branches bent almost into a circle to form stiles and crest. Arm rests match the back. All elements have been nailed together. Not currently on exhibit.
Discussion: This piece of furniture can be considered the product of a folk artist. Robert James Rudd of Bronson, Florida, learned the craft of cypress furniture making as a child from his father in Lake Worth. It was a widespread craft in the 19th and early 20th centuries; however, due to loss of habitat, far fewer young cypress trees are now available, and it has become rare to see this furniture today. The maker and his grandson, Neil, have participated in the Florida Folk Arts Apprenticeship Program. Thus, the elder man is passing his skills along to a new generation.
Bibliography
Jones, Michael O.

 

Craftsmen of the Cumberland: Tradition and Creativity.

 

Lexington, Ky.:

University Press of Kentucky, 1989.

Stephenson, Sue H.

 

Rustic Furniture.

 

New York: Van Nostrand Reinhold, 1979.
Table of Contents 
 
Other Good Books About Furniture
Darling, Sharon S.

 

Chicago Furniture: Art, Craft and Industry, 1833-1983.

 

New York: W. W.

Norton, 1984.

Howe, Katherine S.

 

The Gothic Revival Style in America, 1830-1870.

 

Houston: Museum

of Fine Arts, 1976.

Kaye, Myrna.

 

Fake, Fraud, or Genuine: Identifying Authentic American Antique Furniture.

Boston: Little, Brown & Co., 1991.

Morningstar, Connie.

 

Flapper Furniture and Interiors of the 1920s.

 

Des Moines:

Wallace-Homestead Book Co., 1971.

Neumann, George.

 

Early American Antique Country Furnishings.

 

New York: Crown

Publishers, 1984.

O'Connell, John Berthram.

 

Church Building and Furnishing: The Church's Way; A Study in

Liturgical Law.

 

South Bend, Indiana: University of Notre Dame Press, 1955.

Ostergard, Derek E.

 

Bent Wood and Metal Furniture: 1850-1946.

 

New York: University of

Washington Press and American Federation of Arts, 1987.

Pegler, Martin.

 

The Dictionary of Interior Design.

 

New York: Crown Publishers, 1966.

Peterson, Harold.

 

American Interiors From Colonial Times to the Late Victorians; A Pictorial

Source Book of American Domestic Interiors with an Appendix on Inns and Taverns. New York: Charles Scribners Sons, 1971.

Peterson, Harold.

 

How Do You Know It's Old?

 

New York: Charles Scribners, 1975.

Shearer, Jane Kelly.

 

Furniture and Household Textiles of Residents of Middle Florida,

1820-1865.

 

Ph.D. dissertation, Florida State University, 1960.

Smith, C. Ray, and Marian Page.

 

The Wood Chair in America.

 

New York: E. D. Brickel and S.

B. Brickel, 1982.

Smith, Nancy A.

 

Old Furniture: Understanding the Craftsman's Art.

 

New York: Dover

Publications, 1991.

Southern Furniture, 1640-1820; A Loan Exhibition Presented in Richmond at the Virginia

Museum of Fine Arts.

 

Boston: Antiques, 1952.

Voss, Thomas M.

 

Antique American Country Furniture: A Field Guide.

 

Philadelphia:

Lippincott, 1978.

Wilk, Christopher.

 

Thonet: 150 Years of Furniture.

 

Woodbury, N.Y.: Barrons, 1980.

Williams, Marc A.

 

Keeping It All Together: The Preservation and Care of Historic Furniture.

2nd Edition. Worthington, Ohio: Ohio Antique Review, Inc., 1990.