Furniture - Page 2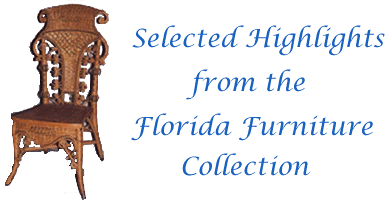 ---
9. Fall-front Desk. Circa 1750–60. Wood, mahogany, cypress secondary; metal, brass, and iron hardware [Chippendale style] Acc. No. 78.239.00.01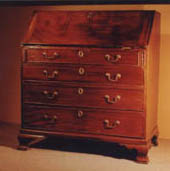 Description: Ogee-bracket front feet and block rear feet may all be replacements. There are four drawers below the desktop, each slightly larger in height than the one above it with the largest drawer at the bottom. Drawers constructed with muntins from front to rear along the bottom of each one. Drawer fronts are of mahogany and have cock-bead molding. Desk top has a central (prospect) door with small drawers and pigeon holes. There is a secret compartment below the removable floor behind the prospect door. Fall-front is attached with modern brass hinges. Sides, top, and fall-front are each made of a single piece of mahogany. Back and all other secondary woods are cypress. The finish on the entire piece has been stripped, and refinished.
Discussion: The construction techniques and woods used to make this piece are classic examples of cabinet making in the British style from the Charleston, South Carolina, area in the 1750s, according to John Bivins of the Museum of Early Southern Decorative Arts. He suggested that the desk originally may have been part of a combination desk and bookcase. Later owners of the piece have written that the desk came from the estate of Dr. Andrew Turnbull in St. Augustine. Turnbull is noted in Florida history as the founder of a colony of immigrants from the Mediterranean island of Majorca, the New Smyrna colony, which ultimately was unsuccessful. The later history of the piece is complex and includes many owners. It was donated to the Museum of Florida History in 1978. The desk is currently on exhibit in the Main Gallery.
Bibliography
Bivins, John, and Forsyth Alexander. The Regional Arts of the Early South.

 

Winston-Salem,

N.C.: Museum of Early Southern Decorative Arts, 1991. (See esp. p. 84, #20, and illustration on p. 69)

Burton, E. Milby.

 

Charleston Furniture, 1700–1825.

 

Charleston: Charleston Museum, 1955.

Kirk, John T.

 

American Furniture and the British Tradition to 1830.

 

New York: Knopf, 1982.

Poesch, Jessie J.

 

The Art of the Old South: Painting, Sculpture, Architecture, and the

Products of Craftsmen.

 

New York: Harrison House, 1989.

 
Table of Contents
10. Chair, Tobacco Roller's. Circa 1890–1950. Wood, mahogany, oak (front stretcher); leather seat and back; metal upholstery nails (replacements of earlier nails) [Vernacular style] Acc. No. 80.44.00.01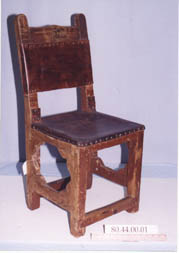 Description: Square-cut front and back legs. Single stretcher on each side, front, and back. Each is mortised through legs and wedged. Seat rail apparently nailed to legs. Leather seat. Stiles have rounded tops. Crest rail has a simple decorative profile, and residue of paint indicates it was once a different color. All joinery is hand-done. Inscription under seat reads "Cuesta Rey." 
Discussion: This is an example of a home-made occupational chair. The cigar industry in Tampa and Ybor City, where this chair is thought to originate, arrived with Cuban entrepreneurs in 1886 and the years after. Fleeing the Cuban revolution of the 1860s, many of the cigar manufacturers settled in Key West. When labor problems arose there, they moved to Tampa. Here, for much of the late 19th and early 20th centuries, hand-rolled cigars enjoyed a golden age of prosperity. Though today the industry is much smaller, one still can find small factories where craftsmen and women hand-roll premium cigars while seated in chairs much like this one, and using tools much like, if not the same, as those used a century ago. Not currently on exhibit.
Bibliography
Campbell, A. Stuart.

 

The Cigar Industry of Tampa, Florida.

 

Gainesville: University Presses of

Florida, 1939.

Davidson, Joe.

 

The Art of the Cigar Label.

 

Seacaucus, N.J.: Wellfleet Press, 1989.

Leon, Joseph M.

 

The Cigar Industry and Cigar Leaf Tobacco in Florida During the

Nineteenth Century.

 

M.A. thesis, Florida State University, 1962.

Westfall, L. Glenn. "Florida's Cultural Legacy: Tobacco, Steam & Stone." South Florida History

Magazine.

 

Vol. 23, No. 4, Fall 1995/Winter 1996. pp. 13–23.
Table of Contents
11. Desk, Roll Top. Circa 1860–80. Wood, walnut; metal, brass hardware. Manufacturer unknown. [Renaissance Revival style] Acc. No. 80.170.00.01
Description: Double pedestal "C" scroll roll top desk. Frame and panel construction on all exterior surfaces with contrasting color burl veneer on all raised areas of panels and on all drawer fronts. Four drawers in each pedestal, each with a single central pull of carved wood. Kneehole center has decorative molding but no drawer. Decorative molding along the top of each pedestal. Tambour top with two metal pulls. Upper section of desk has a row of pigeon holes and document spaces and another row of drawers and pigeon holes below the first.

 
Discussion: The family story is that the J. P. Morgan Bank in New York gave this desk to Captain John J. Inglis because he had admired it on a trip to New York City, and because they appreciated his large deposits. There is no way to document such a story, but the desk certainly dates from the period of Captain Inglis's success in business, which came at a time of great hardship for many Floridians, the Reconstruction period. Currently on exhibit in the Governor's Suite in the Old Capitol.
Bibliography
Grier, Katherine C. Culture & Comfort: People, Parlors, and Upholstery, 1850–1930.

Rochester, N.Y.: Strong Museum, 1988.

Pierce, Donald C. "Mitchell and Rammelsberg: Cincinnati Furniture Manufacturers, 1847–81."

Winterthur Portfolio.

 

13 (1979) pp. 209–29.

State Library of Florida. "Inglis, Captain John J."

 

Biography File, Dorothy Dodd Florida

Collection.
Table of Contents
12. Washstand from the steamboat Hiawatha. Circa 1900. Wood, pine [Vernacular style] Acc. No. 81.125.00.04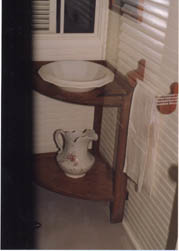 Description: Corner shaped piece with three plain legs, two shelves, the top one with a hole cut in it to hold a basin, and a low gallery along the two sides.
Discussion: The steamboat Hiawatha exhibit in the Museum Main Gallery is a recreation of the two top decks of the original boat. This washstand was salvaged from that original and placed in its correct place in the recreated passenger cabin. Washstands, with accompanying basin and pitcher, were a very common and often very utilitarian category of domestic furnishing in Victorian times. Like everything Victorian though, these sets came in highly elaborate styles as well. Here, in a vehicle intended for public transportation, only the most basic and least expensive version would have been considered suitable.
Bibliography
Ketchum, William C.

 

Furniture: Chests, Cupboards, Desks & Other Pieces (The Knopf

Collectors' Guides to American Antiques).

 

New York: Knopf, 1982. (See pp. 15–17)
Table of Contents
13. Chair, Rocking. Circa 1870–80. Wood, oak/steam-bent; wicker [Vernacular style] Acc. No. 82.40.00.073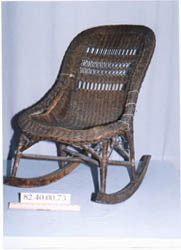 Description: Wood rocker blades with four round wood legs wrapped in wicker. "X" stretchers with two wicker-wrapped corner braces on each leg. Two decorative wicker loops in the triangular space between each leg and brace. Wicker seat and back hung on a frame of wood dowels. Added wicker border around entire seat and back. Back has open-work woven decorative pattern.
Discussion: Governor George Drew, in whose Ellaville mansion this piece originally sat, was a pivotal figure in Florida's political history. The first Democratic governor after Reconstruction, he turned the state back from the radical social changes of the era to a much more conservative culture. This rocker, though part of a mansion, probably spent most of its time of the back porch or in the kitchen or hall. The governor was a portly man, so one can imagine him and members of his family gathered on the back porch relaxing in the cool of the evening after a hard day of doing the state's business (he spent most of his time as governor in his own home along the Suwanee River rather than in Tallahassee). Not currently on exhibit.
Bibliography
Corbin, Patricia.

 

All About Wicker.

 

New York: Dutton, 1978.

 


Denker, Bert and Ellen.

 

The Rocking Chair Book.

 

New York: Mayflower Books, 1979.

Miller, Bruce W. The Caner's Handbook: A Descriptive Guide with Step-by-step Photographs

for Restoring Cane, Rush, Splint, Danish Cord, Rawhide, and Wicker Furniture.

 

New York: Van Nostrand Reinhold, 1983.
Table of Contents
14. Table, Library. Circa 1875–85. Wood, walnut, walnut veneer, poplar secondary wood [Renaissance Revival style] Acc. No. 82.40.00.078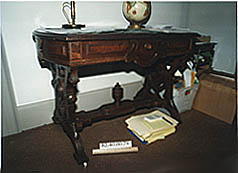 Description: Casters on all four feet. Elaborately carved legs and stretcher with decorative central urn. Single drawer with veneered, paneled, carved, and incised decorations. Center of drawer front extends down to act as drawer pull. Hand-cut dovetails and hand-cut/raised drawer bottom. Bowed sides, flat top with recently replaced green felt center sections.
Discussion: An elaborate example of high-style Renaissance Revival, this library table appears in the 1879 furniture catalogue of the M. & H. Schrenkeisen Company of New York City (p. 21, #10 "Large Library Table"). The fact that Governor Drew's best and most showy furniture was purchased from a catalogue rather than custom-designed and built by a fashionable master, indicates that even the most wealthy and powerful Floridians of the late 19th century were relatively modest in their lifestyle. This and other artifacts from Governor Drew's household passed down through his descendants, who donated a number of items in 1982. Not currently on exhibit.
Bibliography
Brandimarte, Cynthia A. Inside Texas: Culture, Identity, and Houses, 1878–1920.

 

Fort Worth:

Texas Christian University, 1991.

McKinstry, E. Richard.

 

Trade Catalogues at Winterthur: A Guide to the Literature of

Merchandising, 1750–1980.

 

New York: Garland Publishing, 1984. (See p. 168, #977: Schrenkeisen / Illustrated catalogue of parlor furniture, center and library tables, 1879 and associated microfiche cards)

Winkler, Gail, and Roger W. Moss. Victorian Interior Decoration; American Interiors,

1830–1900.

 

New York: Henry Holt and Company, 1986.
Table of Contents
15. Mirror. Circa 1940–60. Glass; metal [Art Moderne style] Acc. No. 85.48.1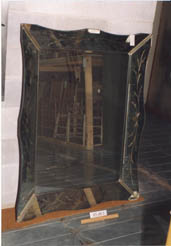 Description: Rectangular mirror in frame made of mirror glass and lightly decorated with abstract linear and circular motifs in frosted glass. Brass reinforcements at miter joints. Frame backed by wood.
Discussion: This mirror was sold by the St. Augustine-based Florida School for the Deaf and Blind as surplus property in 1983, purchased by a private individual, and then donated to the Museum of Florida History. Its earlier history remains unknown, though the deaf and blind school has been a Florida institution since the late 1880s. Not currently on exhibit.
Bibliography
Child, Graham.

 

World Mirrors: 1650–1900.

 

London: Sotheby's Publications. 1990.

Swedberg, Robert W.

 

Furniture of the Depression Era: Furniture and Accessories of the

1920s, 1930s and 1940s.

 

Paducah, Ky.: Collectors Books, 1987.
Table of Contents
16. Desk. Legislative 1939. Wood, walnut, beech and plywood secondary wood; black plastic over particle board desktop [Art Moderne style] Acc. No. 86.75.1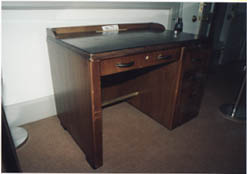 Description: Generally rectangular, with dark walnut veneered surfaces, curved at corners with handles in the form of shallow arcs. Four plain cylindrical feet. Right pedestal with four drawers, each having a single central pull. Pull-out extension above with single metal mushroom shaped pull. Center drawer with two handles. Flat black desktop with a gallery at back with a perpendicular return ending one-quarter of the way back, in a shallow arc.
Discussion: By the late 1930s, the turn-of-the-century mission oak furniture in the state capitol building appeared rather old-fashioned to the members of the legislature. The House of Representatives purchased new legislative desks for themselves in 1939, in the modern streamlined style of the day. The desks were used until 1963 when the chamber furnishings again were updated. It has long been the custom in the legislature for members to be assigned to new seating arrangements at every session of the legislature; thus no one legislator can become attached to any particular desk and claim it as his or her own. This desk was donated by a former state legislator in 1986. Currently on exhibit in the Comptroller's Office in the Old Capitol.
Bibliography
Bates, Elizabeth B., and Jonathan L. Fairbanks. American Furniture, 1620 to the Present. New York: R. Marek, 1981.
Eames, Charles. Furniture From the Design Collection of the Museum of Modern Art. New York: MOMA, 1973.
Greenberg, Cara. Midcentury Modern: Furniture of the 1950s. New York: Harmony Books, 1984.
Habegger, Jeryll. Sourcebook of Modern Furniture. New York: Van Nostrand Reinhold, 1989.
Meadmore, Clement. The Modern Chair: Classics in Production. New York: Van Nostrand Reinhold, 1975.