Preserving Quilts In Your Home
Preserving Quilts In Your Home
"A stitch in time saves nine. . ."
This adage remains the best advice that anyone can give regarding the care and preservation of a treasured quilt. Whether your quilt is new or old, bought or handed-down, when you deal with a problem before it can harm your quilt, you have saved yourself and the quilt untold difficulties. And, you have allowed your textile to live on and tell its story to future generations.
Florida living poses some extra problems for preserving quilts. Our high humidity, year-round warm climate, bright sunlight, and large insect population can lead to trouble. This article will point out some sources of danger for your quilt and suggest ways to avoid problems or to solve them when they do occur.
Causes of Damage
Light
Ultraviolet (UV) light, from sunlight and indoor fluorescent lighting, is bad for fabrics. UV light causes your skin to tan at the beach; it's even worse for your quilt.
Hot and Cold
Extreme and frequent fluctuations in temperature can play tug-of-war with the fibers of your quilt. The furnace and air conditioner in your house can pull your quilt apart without your even knowing it.
Damp
Mold and mildew will damage your quilt. Quilts prefer the same kind of atmosphere that you do. Living in the basement or the attic is not healthy for them.
Insects and Rodents
Bugs and beasts can shorten the life of your quilt. They like to eat the protein fibers in silk and wool and may use the batting for nesting material.
Caring for Your Quilt
There are many simple, easy, and free (or inexpensive) things you can do to keep your quilts happy, healthy, and beautiful. Here are some suggestions.
Cleaning
Don't clean your quilt unless you really have to, which means that you don't let the quilt get dirty in the first place. If you want to preserve your quilt, it will have to be off limits to dogs, cats, kids with muddy feet, and anybody with tobacco products in their mouths.
If your quilt has developed a musty smell, simply air it, rather than clean it, to get rid of the odor. The least stressful way to clean a quilt is to vacuum it carefully, using the brush attachment of your vacuum cleaner. If you can adjust the strength of suction, put it on the lowest setting. Use a two-foot square section of plastic window screening, edged with cotton tape, and place it between the quilt and your vacuum. Caution: avoid vacuuming delicate silk or other fragile surfaces.
Dry cleaning or wet cleaning any but a brand new quilt is not recommended. There are ways to clean quilts with water, but they are complicated, time-consuming, and still may ruin your quilt. See "Suggested Reading" below for detailed information about these procedures.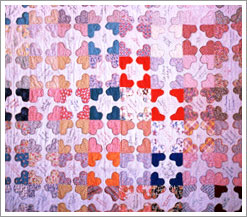 Storage
Quilts need to breathe, so don't put them in any kind of plastic bag. Instead, rotate them on and off of the beds and walls of your home. When they are off display, carefully fold them, roll them, or store them on a spare bed under a clean cotton sheet.
Fold quilts so that they fit into a large acid-free box or a large drawer in a closet or dresser. Line the space with acid-free paper or washed cotton muslin, if it is not already acid-free.
Each time you fold the quilt, place wadded muslin or acid-free tissue in the folds to avoid sharp creases. Refold each quilt two or three times a year, using different fold patterns so that no area of a quilt gets stretched repeatedly.
Roll quilts on large cardboard tubes that have been covered with acid-free paper and a cotton sheet. Roll them so that the design faces outward, then cover the package with another cotton sheet.
Display
Nothing is forever, so don't just place a quilt on the bed or hang it on the wall and leave it there permanently.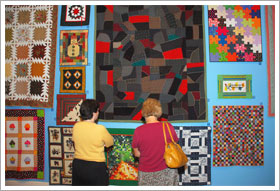 Rotate it with other quilts or art works. The original and most preferred way of displaying a quilt is to drape it artistically over a bed. This method puts the least amount of stress on the fabric while showing off a maximum of surface area.
If your quilt is in sturdy condition, hanging it by a hand-sewn sleeve with a dowel or curtain rod is a good way to display the piece safely and evenly distribute the stress.
Or, machine-sew the fuzzy side of a wide velcro strip to a wider band of cotton fabric. The band can be hand-sewn across the top back edge of your quilt and mounted to a wall with the "hook" side of the velcro. Sources in the "Suggested Reading" section give detailed descriptions of these procedures.
Suggested Reading
The best source of information about quilt care is a booklet by Nancy O'Bryant Puentes, First Aid for Family Quilts (Wheatridge, Colo.: Moon Over the Mountain Publishing Co., 1986). Everything described in this leaflet appears in her book, along with other fascinating information. Other good sources include:
Brackman, Barbara. Clues in the Calico: A Guide to the History and Dating of Quilts. (McLean, Va.: EPM Publications, 1989).
Cutler, Charlene Perkins. "Caring for Antiques: Textiles." Early American Life. April 1995.
Gunn, Virginia. "The Display, Conservation, and Care of Old Quilts." In the Heart of Pennsylvania: Symposium Papers, Jeannette Lasansky, ed. 1986.
Orlofsky, Patsy. "The Collector's Guide for the Care of Quilts in the Home." Quilt Digest 2 (San Francisco: Kiracoffe and Kile, 1984).
Sources for Archival Supplies
Acid-free tissue paper, boxes, and rolling tubes; archival quality batting:
University Products, Inc., P.O. Box 101, Holyoke, MA 01041; 800-628-1912
Light Impressions, PO Box 22708, Rochester, NY 14692-2708, www.LightImpressionsDirect.com, (800) 828-6216, FAX: 800-828-5539
Archivart, 7 Caesar Pl., Moonachie, NJ 07074; 201-804-8986
TALAS, 568 Broadway, New York, NY 10012; 212-219-0770
The Hollinger Corp., P.O. Box 8360, Fredericksburg, VA 22404; 800-634-0491
Non-ionic, neutral detergent, e.g., Orvus brand: TALAS (see above)
100% cotton fabric, twill tape, nylon tulle: local fabric stores
Fiberglass screening and polyethelene sheeting: local hardware stores
Fine cotton sewing thread: local quilt supply stores.
Disclaimer: The Museum of Florida History does not assume risk or obligation in recommending the care of quilts. All washing or cleaning is done at the risk of the owner.